'It' Wins Box Office for Second Week
By
September ticket sales are running ahead of year earlier

Industry is coming off worst summer take in a decade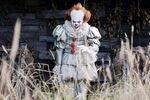 Warner Bros.' "It" topped the box office for a second weekend, as strong reviews and audience reception spooked competing movies.
Based on the Stephen King horror story, the film from Time Warner Inc.'s movie division collected $60.1 million in theaters in the U.S. and Canada, ComScore Inc. said in an emailed statement Monday. Lions Gate Entertainment Corp.'s "American Assassin" debuted in second place with $14.8 million, meeting estimates. Likely awards contender "mother!" placed third with $7.53 million, missing expectations by a wide margin.

The strong reception for "It" marks a potential turning point for the domestic box office this year after the worst summer in a decade. Ticket sales so far this month are 39 percent higher than a year earlier, ComScore said. A sustained rebound would ease concerns at studios and exhibitors that the decline augurs a permanent change in the public's movie-going. Hollywood will be looking at releases later this month to provide more evidence.
"It" had been expected to add $50 million this weekend, according to analysts at BoxOfficePro.com. In total, the film has generated $219 million in North America, according to ComScore, putting it among the top eight films of the year.

"American Assassin" follows CIA recruit Mitch Rapp, played by Dylan O'Brien, who is trained by Michael Keaton's Stan Hurley, a Cold War veteran. They investigate a series of apparently random attacks on military and civilian targets but discover a pattern that leads to mysterious operatives looking to start a war in the Middle East.
Critics didn't approve in the main, with only 41 percent giving positive reviews, according to aggregator Rottentomatoes.com. The film cost $33 million to make, not including marketing costs, according to BoxOfficeMojo.com, which projected $14.5 million in weekend revenue.

Jennifer Lawrence stars in "mother!," an R-rated thriller by Darren Aronofsky, about a new wife whose husband brings a series of guests into the couple's home, testing their relationship. Javier Bardem, Ed Harris and Michelle Pfeiffer also appear. The movie scored 71 percent positive reviews, according to Rottentomatoes.com.
The $30 million movie was projected to open with $12 million for Viacom Inc.'s Paramount Pictures, according to Box Office Mojo.
Before it's here, it's on the Bloomberg Terminal.
LEARN MORE