Germany's Most Likely Coalitions Probably Won't Help the Economy
By and
Bloomberg survey of 26 economists examined policy outlook

CDU/CSU and Free Democrats best for economy, third-most likely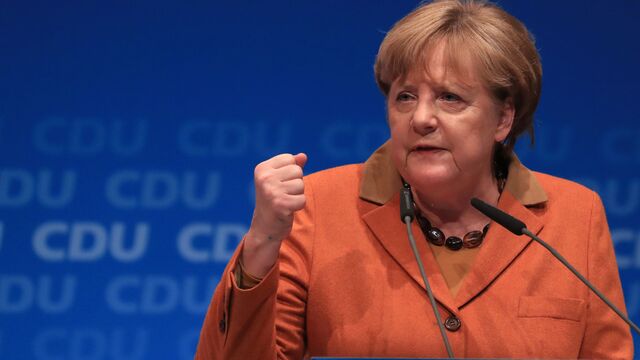 Three of the four most likely German governing coalitions in coming elections will produce suboptimal economic results, according to a Bloomberg survey of economists.
Conversely, the coalition that's seen as the best for jobs, growth, trade and taxes ranks only third in combined voter support in polling ahead of the vote on Sept. 24.
Full Coverage: German Federal Election
One common element: the three top scenarios all feature Angela Merkel as chancellor. But the economist survey shows that, even in an election that Merkel's party has a high probability of winning, policy can vary greatly depending on her partners.
"Do not underestimate the German elections and do not call them boring," cautioned Carsten Brzeski, chief economist at ING-Diba AG in Frankfurt, in responding to the survey. He said he sees a lot more at stake than just Germany's economic policy. "Ms. Merkel's choice of coalition partner will determine the future of the Eurozone."

In the survey, 26 economists, 18 of them in Germany, were asked to rank each of four proposed coalitions by how effective they would be at achieving 10 important policy outcomes. The resulting weighted and normalized scores provide a sense of where different coalitions' priorities will be.
The configuration that would most easily command a majority in the Bundestag, Germany's parliament, is a continuation of the existing so-called grand coalition between Merkel's Christian Democratic Union/Christian Social Union alliance and the rival Social Democratic Party. 
Grand Coalition vs. Jamaica Coalition

Also polling as a potential parliamentary majority, though unprecedented as a national government, is a CDU/CSU alignment with its traditional Free Democrat partners and the environmentalist Green party. (Germans call this the Jamaica coalition, based on the respective parties' black, yellow and green colors.) Neither takes the top score on any of the policy outcomes in the survey.
Still, the grand coalition scored several points higher than the Jamaica coalition on their respective abilities to boost growth, jobs, wages and exports. It would also be better at improving relations with Turkey, which have soured in recent years, and be more likely to abandon a balanced budget, the survey showed.
Eight graphics on the German economic miracle Merkel is banking on
While a grand coalition has governed Germany for eight of Merkel's 12 years as chancellor, the SPD may balk at playing the role of junior partner for another four years.
Best-Case Scenario
The ideal government, per the economists, would be a mash-up of the CDU/CSU and pro-business Free Democrats, which has been the most frequent coalition in post-World War II Germany. This pairing received top marks in terms of its potential to generate economic growth, help create new jobs and bolster exports and trade, as well as lower the country's tax burden.
The catch: current projections give this configuration a roughly 49 percent seat share in the Bundestag, just shy of a governing majority. Which means either the CDU/CSU or the Free Democrats have to outperform the polls come Sept. 24, or additional parties need to miss the nationwide five percent vote threshold.

Pollsters have a less-than-stellar track record when it comes to forecasting recent elections, having missed the June 2016 Brexit referendum and the U.K. Conservatives' electoral setback earlier this year, not to mention President Donald Trump's surprise victory in last year's U.S. election. 
German polling, which has consistently put Merkel's bloc ahead since the spring, has had no such disasters. Still, anything is possible. Imagine that the SPD ultimately emerges as the largest party in the Bundestag. In that scenario, party leader Martin Schulz is expected to sound out the Greens and the Left Party for a possible coalition. According to Bloomberg's survey, it would lead the pack in terms of increasing worker wages, loosening the government purse strings and maintaining a relatively open immigration system.
"The SPD's Schulz has been campaigning to become chancellor, not vice chancellor in a Grand Coalition," wrote Marius Daheim, senior rates strategist for SEB AG in Frankfurt. "The SPD would thus only join forces with the CDU/CSU in the very unlikely event of a political stalemate and risk of right-wing populists entering into government."
Learn more with Bloomberg's guide to German coalitions
Any such dealmaking will start only after the results are on Sept. 24, including the critical third-place finisher. That's when Germany's political leaders start exploring who will govern Europe's biggest economy -- and which policy agenda will carry the day.
Watch more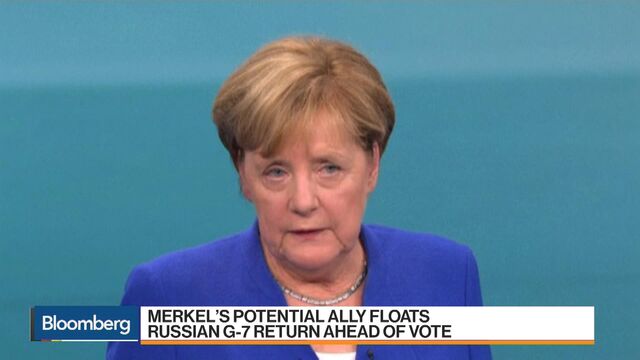 Before it's here, it's on the Bloomberg Terminal.
LEARN MORE