Five Things You Need to Know to Start Your Day
Get caught up on what's moving markets in Asia.
By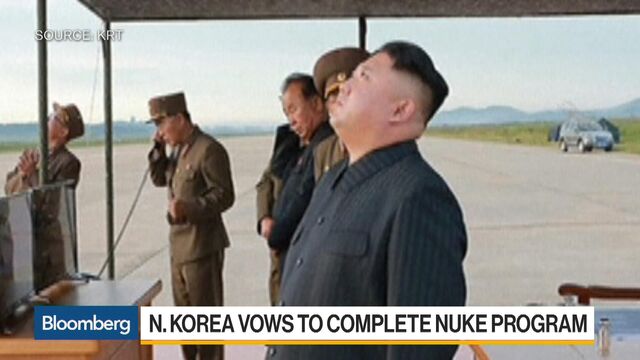 Want to receive this post in your inbox every morning? Sign up here.
U.S. vows to pursue diplomacy in Korean crisis, Abe mulls snap election, and New Zealand's upcoming vote makes waves in foreign exchange. Here are some of the things people in markets are talking about.
'Peaceful Pressure Campaign'
That's how U.S. Secretary of State Rex Tillerson described the nation's stance towards North Korea after the launch of another missile over Japan last week. But both he and other top officials warned during media appearances this weekend that although a peaceful resolution is desired, a military response is still available. National Security Adviser H.R. McMaster said "all options" remained on the table for dealing with the regime. U.S. Ambassador to the UN Nikki Haley added that U.S. President Donald Trump's remark about raining "fire and fury" down on North Korea wasn't an idle threat. South Korean President Moon Jae-in and Trump spoke by phone on Saturday night and agreed that North Korea's threats and escalation of hostilities will only bring about its collapse, according to a government account of the conversation. According to Trump's tweeted account of the discussion, he asked his South Korean counterpart how "Rocket Man" was doing. Though the danger posed by Kim Jong Un's nuclear ambitions has been capturing the attention of world leaders ahead of this week's UN General Assembly, traders have become increasingly desensitized to the regime's fresh displays of aggression.
Oh Snap
Japanese Prime Minister Shinzo Abe is considering a snap election as early as October, according to NHK, amid swelling support for his government's handling of the North Korean crisis. Scandals had opened up the possibility of Abe being replaced by someone within the LDP; now, Japan's cabinet has an approval rating higher than its disapproval rating for the first time in three months. In July, the LDP suffered an historic defeat in the Tokyo assembly elections.
The Labouring Kiwi
The prospect of change in New Zealand's government after the Sept. 23 vote is rattling financial markets. Jacinda Ardern, leader of the main opposition Labour Party, has campaigned on a platform that includes more expansionary fiscal policies, but more restrictive immigration measures as a tonic for poor housing affordability. Opinion polls showing that the Labour Party is leading have been met with selling pressure for the nation's currency, the kiwi dollar. The outcome of this week's election may also lead to a change in the Reserve Bank of New Zealand's mandate as well as many of its operating practices. Prime Minister Bill English, who took over from his former colleague John Key after a little more than eight years, is promising more of the same from the center-right party: tax cuts and high investment in infrastructure. Whoever wins a plurality of seats in this too-close-to-call vote will likely need the support of New Zealand First party leader Winston Peters in order to form government.
Futures Up
Nikkei 225 and S&P/ASX 200 futures are both trading modestly to the upside ahead of the open. For economic data Monday, we'll get an update on China's property market with the release of August home prices at 10:30 a.m. Tokyo time, after July data showed less breadth in home price gains among major metros. Australian new motor vehicle sales for August are slated to be released, which declined by 2 percent on a monthly basis in their previous reading. It's also jobs day in Hong Kong, where the unemployment rate is projected to hold steady at 3.1 percent in August
Storms
Typhoon Talim hit Japan's Kyushu island on Sunday, prompting mass evacuations, record rainfall and flooding in some areas, and a plethora of flight cancellations. The Japan Meteorological Agency has warned of potential landslides and flooding as the storm continues. Turning stateside, Hurricane Jose is poised to potentially afflict New York and New Jersey by Wednesday, though the National Hurricane Center believes it may weaken to a tropical storm by that time. Another hurricane, Maria, is hot on its heels in the Caribbean after Harvey and Irma devastated islands in the Atlantic, Gulf of Mexico, and neighboring coastal areas, resulting in the loss of life, rampant property damage, and causing severe disruptions to economic activity.
What we've been reading
This is what caught our eye over the last 24 hours.
Watershed moment in Chinese debt.
Why are China's consumers so confident?
Bridgewater ready to give its algorithms to Silicon Valley.
What the yuan's surge means for China.
Boris Johnson's "backseat driving" on Brexit.
BIS warns central banks: don't ignore bitcoin.
Before it's here, it's on the Bloomberg Terminal.
LEARN MORE