Your Evening Briefing
Here are today's top stories.
By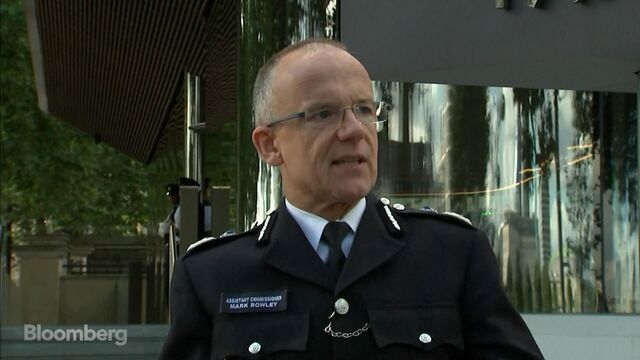 Want to receive this post in your inbox every afternoon? Sign up here.
The ease of doing everything online means many third-party companies hold your data. Equifax is only the latest high-profile example of the pitfalls of that reality.
What's less visible to the public eye is what happens to that data after it becomes vulnerable in a data breach. Credit card details, sometimes even including the cardholder's mother's maiden name, can sell for as little as $10 on the dark web. In some cases, that's even less than what it costs to freeze your credit.  —Megan Hess
Trump sparks anger in the U.K. over London terror tweets. President Trump was accused of betraying intelligence details following a terrorist attack in London on Friday, by saying those responsible for an explosion on an underground train "are sick and demented people who were in the sights of Scotland Yard," before adding "must be proactive!" His comments prompted an immediate backlash. Prime Minister Theresa May and police led criticism of his intervention.
Tropical Storm Jose could threaten New York next week, according to a National Hurricane Center advisory. The storm, currently about 360 miles northeast of the Bahamas, is expected to strengthen to a Category 1 hurricane in the next 48 hours as it moves through the Atlantic Ocean. Jose's path could put it near New Jersey and New York by Wednesday morning, though it may weaken to a tropical storm again by then.
Farewell, Cassini. We'll always have your photos. NASA's Cassini orbiter hurtled into Saturn at nearly 80,000 miles an hour to incinerate itself on Friday morning, ending its 20-year mission. NASA still has a ton of data to sift through, including the spacecraft's closest sniff of Saturn's atmosphere as it melted the orbiter into nothing. Here are some of the most stunning photos it captured.
Your identity is for sale on the dark web. Verified high-limit credit cards from countries including the U.S., Japan, and South Korea are selling on the dark web for the bitcoin equivalent of about $10 to $20, according to an annual report on cybercrime. It's not just credit cards: An underground hacker market is selling identities that are detailed enough to facilitate "impersonation-based fraud" for as little as $10 apiece.
Amtrak wants to remind you how awful flying is. As former CEO of Delta, Richard Anderson knows why so many people hate air travel — and he appears ready to exploit those pain points in his new role as president and co-CEO of Amtrak. From free Wi-Fi to the absence of middle seats to the two bags you may check for free, Amtrak is pitching itself as a more comfortable, civilized travel alternative to an airline.
Where are the Mar-a-Lago visitor logs? A government transparency group vowed to continue a court battle to open visitor logs at Trump's Florida resort, after the administration provided only the names of Japanese staff who attended a February visit from Prime Minister Shinzo Abe. Ethics specialists have criticized Trump for not divesting from his business holdings, including Mar-a-Lago, saying they provide an avenue for those seeking influence to curry the president's favor.
Read this before you spend $2 billion on your own submarine. For those bored with multimillion-dollar megayachts, with their ho-hum helipads and snooze-inducing jacuzzis, consider the 928-foot-long M7, designed by the Austrian company, Migaloo Private Submersible Yachts.
Before it's here, it's on the Bloomberg Terminal.
LEARN MORE