Villaraigosa Calls Out Uber in Campaign for California Governor
By
Former L.A. mayor, Assembly speaker courts middle-class voters

Backs measures to build affordable housing, public transport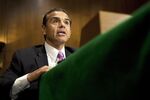 Antonio Villaraigosa, the former Los Angeles mayor and state Assembly speaker now running for California governor, said technology giants such as Uber Technologies Inc. and Lyft Inc. need to think about the impact of their business models on middle-class workers.
"The shared economy has got to share," Villaraigosa, a Democrat, said in an interview in the Los Angeles office of Bloomberg News, complaining that taxi drivers who used to make as much as $100,000 annually, plus benefits, are now making a fraction of that working for app-based, ride-sharing companies.
"What happens when it's all automated and they're all out of a job?" Villaraigosa said. "The next governor's going to have to work with those leaders to think about what we need to do to prepare for that."
Villaraigosa is a leading contender among the 41 declared candidates to become California's chief executive in next year's election. The 64-year-old Los Angeles native has staked out an agenda that includes figuring out ways to boost worker pay and resisting the priorities of some liberal Democrats.
"I don't think everyone that voted for Trump is deplorable," Villaraigosa said, referring to a comment Hillary Clinton made on the campaign trail last year, referring to half of the voters supporting then-presidential candidate Donald Trump. "The economy's not working for too many people. I want to improve the business climate."
New Poll Numbers
Villaraigosa is in second place in the California governor's race, with the support of 12 percent of registered voters, according to a poll released Friday by the Institute of Governmental Studies at the University of California, Berkeley. His chief rival, with 23 percent of registered voters, is former San Francisco mayor and current lieutenant governor Gavin Newsom, also a Democrat. In third place is Republican venture capitalist John Cox, with 10 percent.
Newsom also leads in fundraising, with cash on hand of $13.1 million for his campaign, compared with $4.5 million for Villaraigosa and $2.8 million for Cox, according to the California Secretary of State's office.
Villaraigosa "is a persistent and energetic campaigner," said John J. Pitney Jr., who teaches politics at Claremont McKenna College in Claremont, California. "There is plenty of time until the first vote is cast."
A spokesman for Uber declined to comment on Villaraigosa's remarks about the ride-sharing company, while pointing to a policy making changes to benefit drivers that include allowing tipping in the U.S. A representative for Lyft declined to comment.
Among Villaraigosa's plans are encouraging cities and counties to pass spending measures on affordable housing and public transportation that can then be supported through state funding. His plan is modeled after Measure R, a 2008 referendum in Los Angeles that targeted $40 billion in new sales taxes for a dozen light-rail and other transportation projects. Villaraigosa later lobbied Congress to lend against that revenue to accelerate the construction.
"It became the template for what I'm going to with affordable housing around the state, and transportation," Villaraigosa said. "We ought to reward cities and counties for putting up their own money."
The candidate said he wants to encourage more young people to attend college so they can learn skills relevant to today's employers. He also said he would like to see state college tuition raised for students whose families can afford it.
Legalized Marijuana
Asked about taxes on marijuana, which California voters approved for recreational use in a referendum last year, Villaraigosa said he believes this new and growing industry can be a source of jobs in the state. Villariagosa said he would like to see the pot distributors employ more black and Latino workers, many of whom may have been imprisoned for selling drugs.
"Let's bring them in," he said. "They've got to have an equity interest."
Villaraigosa said he differs from some progressive Democrats who are promoting a single-payer system to provide universal health-care coverage for Californians, which he considers too expensive. "One day the country will be on a single-payer," he said. "Today is not that day."
Villaraigosa's self-positioning as an advocate for the middle class and a moderate may not work, according to Sherry Bebitch Jeffe, a senior fellow in public policy at the University of Southern California in Los Angeles. Villaraigosa, a former labor leader, has lost support from some teachers for backing charter schools and trying to take control of the Los Angeles Unified School District when he was mayor. He's also not in sync with the California Nurses Association, which supports a single-payer health care system, according to Bebitch Jeffe.
"Those are two very powerful interest groups," she said. "That's is going to be difficult. Labor will be split."
Villaraigosa said he's given up any idea of running for president and only wants to apply what he's learned in his more than two decades in office to the California governorship.
"I'm not as young, pretty, speak as well, but I do have a record and I'm calling them like I see them," he said. "I hope in the end that will be a plus for me."
Before it's here, it's on the Bloomberg Terminal.
LEARN MORE