May Complained to Trump About His London Attack Tweets, Official Says
By and
President raises hackles with claim police knew subway suspect

Trump calls May to offer condolences over underground bombing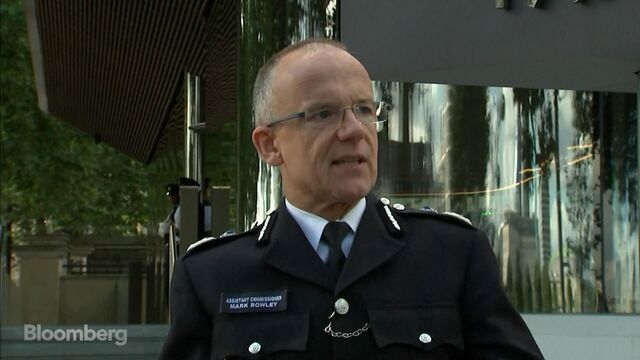 Follow @bpolitics for all the latest news, and sign up for our daily Balance of Power newsletter.
Theresa May complained directly to Donald Trump after the U.S. president said on Twitter that the people behind a Friday bombing in London were known to British police, according to a U.K. government official familiar with the conversation.
Trump called the British prime minister to offer his condolences over the attack on a subway train, which injured 22 people. May told the U.S. leader she was unhappy with his initial response, the official said on condition of anonymity.
This isn't the first time May has protested to Trump. Earlier this year, the premier was in a political and diplomatic bind after U.S. media reported leaked details of a British police investigation into the Manchester bomb attack that killed 22 people.
The latest controversy will do little to further the so-called special relationship between Britain and its transatlantic ally. It comes at a time when May needs progress on a new post-Brexit trade deal with the U.S. as divorce talks with the European Union hit several roadblocks.
Earlier on Friday, Trump was accused of betraying intelligence details by telling his 38 million Twitter followers that those responsible for an explosion on an underground train "are sick and demented people who were in the sights of Scotland Yard," before adding "must be proactive!"
'Pure Speculation'
May, when asked directly about Trump's tweets, responded in a pooled TV interview: "I never think it's helpful for anybody to speculate about what is an ongoing investigation." The Metropolitan Police went further, saying in a statement that the tweets "are unhelpful and pure speculation."
May's former chief of staff Nick Timothy was among the first to criticize Trump, and did so on Twitter: "True or not -- and I'm sure he doesn't know -- this is so unhelpful from leader of our ally and intelligence partner."
Others warned that, if the president's comments were based on a confidential security briefing, any members of a potential terror cell may have been alerted that they were under surveillance.
In a White House statement, hours after his morning tweets, the president "pledged to continue close collaboration with the United Kingdom to stop attacks worldwide targeting innocent civilians and to combat extremism."
Before it's here, it's on the Bloomberg Terminal.
LEARN MORE