U.K. Pub Boss Rails Against EU 'Oligarchs' in Brexit Broadside
By and
Wetherspoon's Martin says consumers have alternatives to EU

No trade deal needed if Brussels holds tough line, Martin says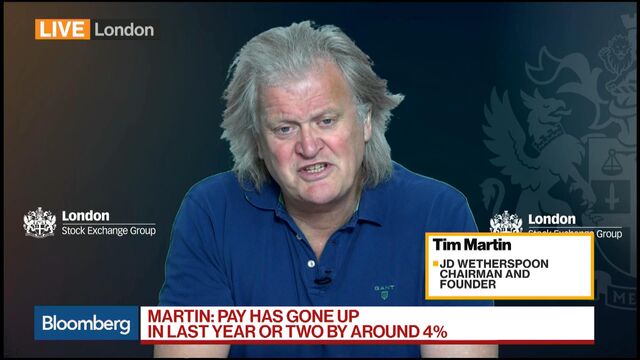 Tim Martin, chairman of U.K. pub operator J D Wetherspoon Plc, urged European Union "oligarchs" to "take a wise-up pill" to avoid damaging the bloc's economy as it negotiates Britain's withdrawal.
Martin said Brussels risked an own-goal that would hurt the economies of continental European economies if it takes a tough line on a trade deal with the U.K. British consumers will favor goods from outside the EU if the country is unable to secure a favorable agreement, he said.
"As a result of their current posturing and threats, EU negotiators are inevitably encouraging importers like Wetherspoon to look elsewhere for supplies," Martin said in a statement as the company reported financial results.
The pub chief, who campaigned for Brexit, in July drew a rebuke from the Confederation of British Industry after telling the business lobby group to "put a sock in it" over Brexit negotiations. Martin has criticized what he perceives as alarmist rhetoric from bodies tracking potential fallout.
Frans Timmermans, first vice president of the European Commission, said he would disregard Martin's latest Brexit broadside. The pub chief's characterization of Brussels officials, he said in an interview with Bloomberg TV, "doesn't have any implication for the way we negotiate."
"Although I'm very emotional about Brexit itself, because I'm extremely saddened, the process of disentaglement shouldn't be an emotional process, it should be businesslike," he said. "All those strong words and accusations don't help, but we shouldn't be distracted by them either."
Martin said he would have no problem with falling back on World Trade Organization rules, which would occur if the U.K. leaves the EU without a new agreement. The country already trades with many other countries on that basis, he noted.
"It's difficult to negotiate with the unelected oligarchs who are in charge," Martin said in an interview on Bloomberg TV. 
Dyson, Mayfield
His comments echoed those of James Dyson, the man behind the eponymous vacuum cleaner, who said Thursday that the prospect of a disorderly U.K. departure from the European Union doesn't faze him.
Meantime, Christopher Bailey, chief creative officer of luxury brand Burberry Group Plc, told the BBC that the potential for post-Brexit trade is "enormous."
"The possibilities and the potential for growth, both locally here in the U.K. and overseas, is enormous," he said. "Britishness resonates globally."
By contrast, Charlie Mayfield, chairman of retailer John Lewis Partnership Plc, Brexit warned on the same day that Brexit "is having an impact on everyone" and rattling business confidence.
Despite his criticism of the EU, Martin said that for now some products from the region are big sellers in the company's bars.
"I'm almost ashamed to say our No. 1 product in a pub is Lavazza coffee," he said in the interview.
— With assistance by Matthew Miller, and Anna Edwards
Before it's here, it's on the Bloomberg Terminal.
LEARN MORE