Trump Slams ESPN in New Sign Companies Can't Avoid Politics
By and
TV host calling president 'white supremacist' causes new row

Many Americans still not convinced CEOs should take a stand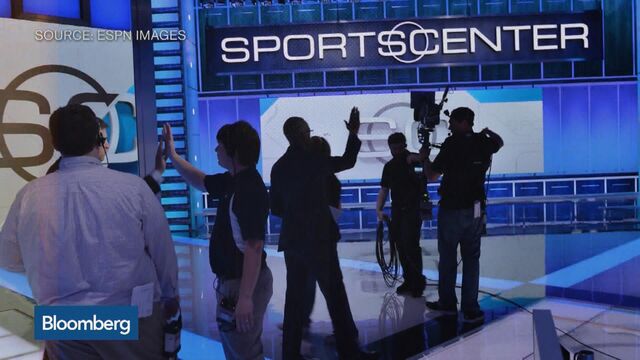 President Donald Trump fired a fresh volley of criticism against TV sports network ESPN on Friday, demanding an apology after host Jemele Hill called the president a white supremacist on -- where else? -- Twitter.
"ESPN is paying a really big price for its politics (and bad programming)," the president tweeted, responding to Hill's Sept. 11 comments. "People are dumping it in RECORD numbers. Apologize for untruth!"
It's significant that the president demanded an apology from the network, not from Hill. Since his inauguration, U.S. companies have found it nearly impossible to stay out of the partisan crossfire. General Motors Co., Campbell Soup Co., ESPN parent Walt Disney Co., Under Armour Inc. and Uber Technologies Inc. have all faced threats and calls for boycotts from both sides, depending on how consumers viewed their relationship with the White House and stance on social issues.
"People will call you out online if you speak up or you don't speak up," said Leslie Gaines-Ross, chief reputation strategist for the public relations firm Weber Shandwick. "There are lots of risks and a lot of rewards for speaking up. It depends a lot on your employee base and your customer base because you are going to offend someone."
Even though ESPN reprimanded Hill for airing her opinions "on a platform that implies that she was in any way speaking on behalf of ESPN," the company attracted a fresh wave of criticism for not firing her. ESPN President John Skipper said in a staff memo Friday that employee comments on social media shouldn't be personal or inflammatory and that those standards were violated in recent days. He said the company's handling of the incident was a private matter.

The hashtag #boycottESPN drew more than 60,000 tweets, mostly from people who appeared to be more conservative based on their other social media activity, said David Berkowitz, chief strategy officer at marketing tech firm Sysomos. Many of the people tweeting and retweeting had American flags in their profile and slogans such as "all lives matter," he found.
"Donald Trump, rightly or wrongly, is the focal point of a lot of anger," said Jason Maloni, founder of JadeRoq LLC, a crisis-management company that gives advice on sports-reputation issues. "I find it to be very sensitive ground for any reporter."
Under Pressure
ESPN seems particularly vulnerable to the new round of criticism, both because its business model is already under pressure and because its audience tends to be more conservative than the general population, according to data from Simmons Research. The audience is 27.5 percent very or somewhat conservative, versus 20.6 percent somewhat or very liberal. The rest of the viewers are middle of the road, according to the data.

The so-called alt-right movement is eager to tie ESPN's business woes to its supposed liberal tilt. A recent story on Breitbart News declared, "We may or may not, but definitely are, fast approaching a point where the vast majority of the world's ills can be traced back to ESPN." The site has also said ESPN's alleged leftist bias contributed to shrinking NFL ratings. As proof of bias, many of the boycott supporters pointed out that last year the company fired baseball analyst Curt Schilling after he shared a critique on Facebook about North Carolina's law banning transgender people from using bathrooms that don't correspond to their sex.
Network insiders have also given credence to the critics on the right. In April, longtime SportsCenter anchor Linda Cohn went on 77 WABC radio in New York to discuss the network's struggles, saying it overpaid for some sports rights and failed to see the rise of new competition like Netflix. But she also discussed politics. After a host mentioned distaste among some ESPN viewers regarding the network's political alignment -- its sympathetic reporting on quarterback Colin Kaepernick and support of transgender Olympian Caitlyn Jenner -- Cohn agreed.
"If anyone wants to ignore that fact, you're blind," she said. "I felt that the old school viewers were put in a corner and not appreciated with all these changes. And they forgot their core. You should never forget your core."
This week, frequent ESPN critic Outkick the Coverage reported that Skipper called Cohn after her appearance and told her not to come to work that weekend. Cohn's suspension, and the lack of punishment for Hill, has create more fuel for those who feel ESPN has a liberal agenda.
ESPN's own research paints a less partisan and more satisfied tone for its viewers. More than two thirds of viewers agree with the ESPN mix of sports and politics and almost a third think ESPN skews conservative, according to a May survey for the sports network by Langer Research Associates. The same survey found that conservatives and liberals each rated the network as a positive 7 on a scale of 1 (worst) to 10 (best).
The network's public editor, Jim Brady, said in a blog post Friday that the company "leans left," adding that "I don't think anyone ever made an executive decision to go that route as much as the personalities the network has promoted into high-profile positions tend to be more liberal, and as their voices are amplified, the overall voice has shifted with it."
Secular Shifts
In fact, the headwinds for ESPN have so far been secular, with dramatic shifts in the ways fans consume sports. One of the largest contributors to Disney's profits, the network has been making changes to its non-sports programming, launching new shows and increasing its online presence as it copes with declining TV ratings, particularly at SportsCenter.
The number of ESPN subscribers has fallen to 87 million currently from a peak of more than 100 million in 2011, according to Nielsen, but the primary channel alone still generates roughly $7.5 billion in annual subscriber fees.
As part of its ongoing efforts to remain relevant, ESPN deploys custom software to track what fans are saying on social media, using the trending topics to find issues hosts can discuss on TV. Ironically it's the same medium -- social media -- that often finds ESPN hosts speaking off the cuff, and getting in trouble.
Speaking Out
Americans aren't yet sure about the role of company leaders in the public debate, Weber Shandwick's Gaines-Ross said. Among all respondents to an April survey by the public relations company, 44 percent said the top executive should not weigh in and 35 percent said the CEO should speak up on social issues. For millennials, 47 percent supported the CEO taking a position and 36 percent were opposed, the survey found.
Companies have to weigh very carefully both the reaction of employees and customers to any given situation, she said. Under Armour Inc. Chief Executive Officer Kevin Plank faced calls for a boycott from liberals in February for comments seeming to support Trump and then again last month from conservatives after he quit a Trump advisory committee.
"There's a price to silence these days, too, and you have to be aware of that," Gaines-Ross said. "Millennials are more favorable to companies where the CEO speaks up, they are more likely to buy the products from a company where the CEO speaks up and they're more likely to work and be loyal toward companies where the CEO speaks up on social issues."
— With assistance by Ira Boudway, Gerry Smith, Lucas Shaw, and Eben Novy-Williams
Before it's here, it's on the Bloomberg Terminal.
LEARN MORE