markets
PMI Volatility's Record Lows Provide Ammo for Market Bulls
By
Purchasing Managers Index figures have tumbled this year

Stable movemements in economic data reduce risk premiums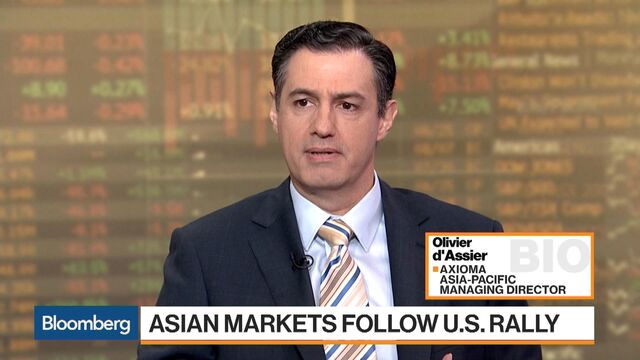 Market volatility continues to be lulled by a stream of steady economic data, as more predictable growth and inflation readings cap premiums on risky assets.
The latest sign? Manufacturing data are less volatile than ever. The spread between the highest and lowest global Purchasing Managers Index figures has narrowed over the past six months to just 0.4, according to Morgan Stanley. That's the smallest movement seen since the series began in 1998.

The thinking goes that gyrations in economic data spur higher volatility in financial markets as the present value of future cash flows gets discounted the more uncertain the outlook for inflation and growth.
Clustered PMI readings this year, therefore, underscore the stable -- and synchronized -- nature of global output, supporting equity valuations, Morgan Stanley strategists led by Graham Secker wrote in a Friday note.  
"Excess liquidity is regularly cited as a key reason why volatility across most asset classes has been so low this year," they write. "However, there is another contributory factor, which is a similar lack of movement in economic data."
To Dennis Debusschere, head of portfolio strategy at Evercore ISI, this link between economic and market volatility remains poorly understood by market participants, even though it's the key driver in this year's global rally.
"The low-inflation/low-real-rate/low-economic-volatility regime determines everything," he said in an interview. "The value of future cash returns increases dramatically in this behavioral framework."
Morgan Stanley reckons the calm market landscape isn't likely to unwind until the U.S. enters a recession, the odds of which the bank places at 25 percent over the next 12 to 18 months.
In other words: Keep calm and carry on.
Before it's here, it's on the Bloomberg Terminal.
LEARN MORE