Peru's Entire Cabinet to Quit After Losing Confidence Vote
By
Cabinet chief accused lawmakers of undermining the government

Congress already forced out finance, transportation ministers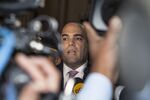 Peru's cabinet will be forced to resign after cabinet chief Fernando Zavala lost a vote of confidence he'd called to prevent opposition lawmakers from ousting the second education minister in less than a year. 
The opposition-controlled Congress voted 77-22 against the confidence motion Friday with 16 abstentions, meaning President Pedro Pablo Kuczynski will have to find a new head for his ministerial team. Kuczynski can reappoint all his ministers except for the cabinet chief though opposition lawmakers urged him to make changes.
Zavala, who faced opposition calls to step down over the government's handling of a teachers strike, called the confidence vote knowing it could cost him his position. The ruling party has just 17 of the 130 seats in Congress. Still, the move may yet pay off by putting Zavala's successor in a stronger position to defend Kuczynski's administration in the future.

Should the new cabinet lose a confidence vote the constitution allows Kuczynski to dissolve Congress and call parliamentary elections. That's not a scenario many lawmakers would welcome and may lead to fewer attempts to censure ministers in future.
The president has 72 hours to appoint a new team and 30 days for the new cabinet to seek a vote of confidence in Congress.
"President Kuczynski is going to put his cabinet back together to defend the policies he believes in, the policies for which he was elected," Culture Minister Salvador del Solar told Radio Programas.
Read more: The Public-Private Project That Has Peru in Knots: QuickTake Q&A
Less than 14 months into Kuczynski's administration, the clash of legislative and executive powers risks hurting business confidence and slowing a much-anticipated economic recovery.
Speaking to reporters, Peru's central bank President Julio Velarde said a fresh parliamentary election would be "horrible" and would hurt prospects for an economic recovery next year. He added he expects "sense will prevail" and that political leaders will reach an agreement and won't listen to the "hot heads."
"The worst scenario, elections, would obviously be negative," Velarde said.
Peru's sol plunged the most in four months to 3.251 per U.S. dollar at the close of trading in Lima. The nation's overseas bonds due in 2025 fell to their lowest level in nearly two weeks.

"The main risk for the economy is that the 2018 budget currently being debated by Congress, which includes a sizeable fiscal stimulus, is delayed or watered down," Adam Collins, an analyst at Capital Economics Ltd, wrote in an emailed note to clients.
Critical Period

Kuczynski, a former Wall Street banker, suspended a planned visit to New York where he was due to address the United Nations General Assembly and have dinner with U.S. President Donald Trump, according to the Foreign Ministry.
Zavala, a former SABMiller Plc executive, took on the additional post of finance minister in June after Alfredo Thorne was forced out by Congress. Comments via Twitter following the vote suggest he may not be reappointed finance minister and leave the cabinet entirely.
"Thanks to all my team. It's been an honor working with you," said Zavala.
Fuerza Popular, led by former presidential candidate Keiko Fujimori, said Sept. 12 the party planned to table a censure motion to force out Education Minister Marilu Martens for her handling of a teachers strike that became one of the longest in decades.
Martens would have been the fourth member of Zavala's team pushed out by Congress. Her predecessor Jaime Saavedra was censured in December and is now head of education policy at the World Bank.

Two censures in less than a year represent an affront to the government's education policy "as well as an attack on the work of the team I have the honor to lead," Zavala said in Congress on Thursday.
In recent weeks, lawmakers from Kuczynski's own party called on the president to bring on ministers with more political experience to better contain attacks from the opposition, amid a slide in his popularity.
— With assistance by Ben Bartenstein
Before it's here, it's on the Bloomberg Terminal.
LEARN MORE