Here's What Happened in Week Five of the German Election Campaign
By and
'This is a joke,' Merkel told by woman angered over pensions

FDP's Lindner surfaces in 1997 video as schoolboy entrepreneur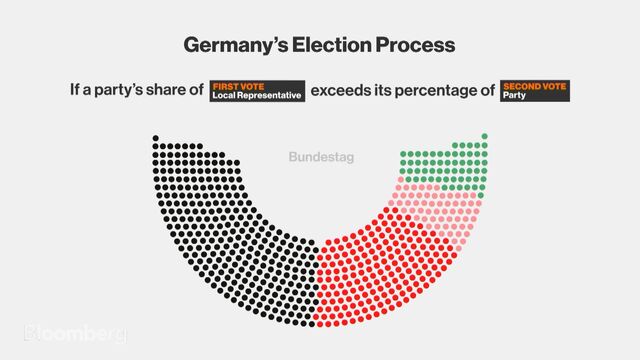 As the home stretch for the Sept. 24 vote heaves into view, it's hard not to conclude that a fourth term is Chancellor Angela Merkel's for the taking. The polls have barely shifted over the past five weeks, with Merkel's Christian Democratic Union-led bloc solidifying the lead it's held since the spring and no relief for Social Democratic Party leader Martin Schulz.

SPD's Falling Star
This may have been the week that the Social Democrats faced up to electoral reality. In August, Schulz reminded those who queried his lamentable position in the polls that German voters wouldn't pay attention until the final days and weeks. Well, now we're here and there's no sign more voters are tuning in to his message.
Vegan Hip-Hop Dadaist? You're Spoiled for Choice in German Vote
On Monday, Schulz laid out conditions for any coalition, including free nursery schools, equal pay and solid pensions. "Whoever wants to get rid of Merkel has to vote for Schulz -- it's completely clear," he said. German media interpreted his announcement as evidence that he was preparing for government -- as junior coalition partner to Merkel.
Then on Thursday, an Infratest survey dropped showing the SPD down at 20 percent -- the party's lowest level since January -- raising alarms at SPD headquarters. Even Merkel would be unwise to welcome such a result on election day since it would almost certainly mean the SPD being forced to take time out from government and regrouping in opposition, drastically curtailing her coalition options.
Avoiding Talk on Coalitions
Would Merkel have Schulz as her vice chancellor? That was put to the German leader at the end of a 90-minute town-hall session late Thursday. Merkel reacted with a grimace, then a grin, as she labored not to respond to the prospect of reviving the "grand coalition" with the SPD that has ruled for eight of her 12 years in power. Schulz's stock response to the same question is similarly diversionary: "I want to be the federal chancellor of the Federal Republic of Germany." Both of them want to keep their options open.

'This Is a Joke'
Merkel is used to her campaign rallies being harried by far-right protesters, but at the ZDF town hall she got an earful from a retiring cleaner linked in the media to the anti-capitalist Left party. She excoriated Germany's pension system for impoverishing her after 40 years of work: "Disgraceful," she said. Merkel, ever unflappable, asked if she had a private plan to top up her statutory pension, prompting a woman sitting nearby to grab the mic. "This is a joke what you're saying!" Schulz has pilloried Merkel for dodging the pension issue throughout the campaign, though with little obvious effect. Merkel agreed to disagree, adding, "I can't promise an immediate change in our pension system."
Don't Mention the War
There's no denying the populist Alternative for Germany, or AfD, has made waves this campaign. Buoyed by public anger over migration, the party is especially strong in the formerly communist east, including in Merkel's home district on the Baltic Sea, where her challenger says he has a chance to unseat her. Leif-Erik Holm, a former radio DJ, said that Germans risk becoming a minority in their own country, comparing them to Native Americans: "They live in reservations." Nativist rhetoric has become a stock in trade, with lead candidate Alexander Gauland telling a recent rally that Germany has the right "to be proud of the achievements of German soldiers in two world wars," according to Buzzfeed. Heiko Maas, the Social Democratic justice minister, called the comment that of a "right-wing extremist."
'We Do Earn Real Money'
Most people cringe at old clips of themselves. Christian Lindner, the 38-year-old leader of the Free Democratic Party, must be wondering if a two-decade-old video that's resurfaced could hurt his election chances. A show from 1997 unearthed by Stern TV shows Lindner and a friend as entrepreneurial high school students: cruising around in a rented Mercedes S-Class, pouring through files in brief cases and dismissing their classmates as they revel in their side business as PR consultants. "We do earn real money -- I can't give you a sales number for tax reasons," Lindner tells the interviewer. Three years later he was an FDP lawmaker in the state parliament of North Rhine-Westphalia. Depending on the result on Sept. 24, he might even end up in the Finance Ministry.
Before it's here, it's on the Bloomberg Terminal.
LEARN MORE