Kim Jolts Japan With Missile Over Breakfast Rice and Miso Soup
By and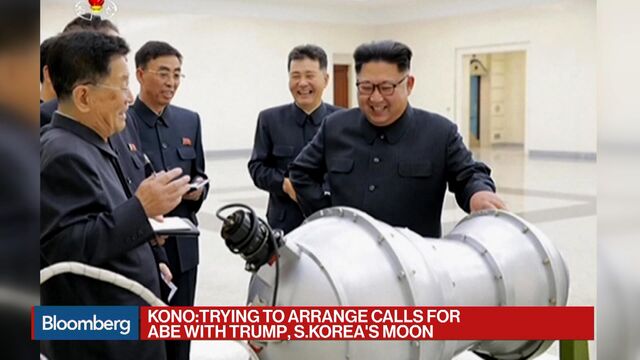 North Korea gained a live audience of millions for its latest ballistic missile, which flew over Japan just after 7 a.m. when many people were watching TV as they had breakfast.
Prompted by the government's missile alert system, public broadcaster NHK on Friday morning switched to a black screen with the words "citizens safety information" and "missile launch" spelled out in white. An announcer urged viewers in 12 northern prefectures -- with a combined population of 21 million -- to seek shelter in a sturdy building or underground.

Fuji TV cranked up the tension, showing a live feed of the PAC-3 interceptors that would be used to try to shoot a missile down if necessary.
While the tense minutes between the missile warning and confirmation it had passed over Japan will probably add to already widespread concern about the growing risk from North Korea, NHK switched mid-morning to normal programming. One program showed viewers how to make pasta with shiitake mushrooms.
Before it's here, it's on the Bloomberg Terminal.
LEARN MORE