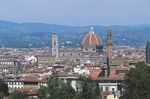 The Italian central bank just published new data about the bad debts crippling the nation's financial system. After years of not tackling their non-performing loan burden, Italy's banks are finally getting their act together.

There's more to come. Deloitte, a consultancy firm, calculates that while the volume of offloads slowed in the first half of this year, the "hectic" pace of deals currently being negotiated signals a second-half pickup in activity.

"Italy is this year likely to be the most active market for distressed debt in Europe," Deloitte said in a recent research report. "Pricing has become much more realistic over the last 18 months, and as a result deals are being done faster."
New regulations introduced in Italy in recent years, including limitations on borrowers being able to block recoveries and laws allowing real-estate leases to be packaged into securitizations, have enticed more buyers into the market.
Moreover, new accounting rules known as the International Financial Reporting Standards 9 are due to come into force at the start of 2018, under which banks will have to take into account expected losses on their loan books as well as realized losses.
The prospect of that change "will continue to catalyze euro-zone banks' efforts to reduce non-performing loans," according to Bloomberg Intelligence analyst Jonathan Tyce. While the recent downward trend is encouraging, banks need to continue to be realistic about the prices they're willing to offload their bad debts at.
The current non-performing loan total of 174 billion euros ($207 billion) remains a drag on the Italian economy; the euro region as a whole is stifled by almost 1 trillion euros of bad debts. Further reductions in that burden could be just the accelerant the nascent economic recovery in the euro zone needs.
Before it's here, it's on the Bloomberg Terminal.
LEARN MORE