Harvey Clouds U.S. Economy as Retail Sales, Factories Take Hits
By
Part of slowdown in purchases may be unrelated to storm

Some economists lower estimates for third-quarter GDP growth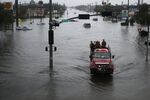 Hurricane Harvey is taking a swipe at the U.S. economy this quarter, though not all of the slowdown can be blamed on the storm.
Three reports on Friday put the impact of the Texas flooding into focus: Retail sales fell last month, according to the Commerce Department; Harvey pushed down factory production in August, the Federal Reserve said; and concern about the economic and inflationary effects of Harvey and Hurricane Irma led consumer sentiment to fall in September, a University of Michigan survey showed.
Highlights of Friday's U.S. Economic Indicators
Factory output fell 0.3% m/m (est. 0.3% gain), as Harvey reduced rate of change by about 0.75 percentage point
Retail sales fell 0.2% (est. 0.1% gain), with control-group sales -- used to calculate GDP -- dropping 0.2%
Preliminary consumer-sentiment index eased to 95.3 (est. 95) from 96.8 in August
The fallout from the storms will take some momentum off third-quarter growth and then probably boost activity later this year and into 2018, when rebuilding efforts are under way. The swings will make it tougher to gauge the underlying health of the economy for several months, though analysts expect steady hiring and healthier finances will sustain growth, albeit at a slower pace.
"The third quarter is going to look very soft, and most of that will reflect the near-term impact of the storms," said Richard Moody, chief economist at Regions Financial Corp. in Birmingham, Alabama. While not all of the weakness in demand was related to Harvey, "it doesn't mean the consumer fundamentals have suddenly deteriorated."
The Atlanta Fed's GDPNow tracking estimate of third-quarter growth eased to a 2.2 percent annual rate from 3 percent a week ago, while economists at Barclays Plc reduced their tracking projection to 2 percent from the previous day's 2.6 percent. Michael Englund, chief economist at Action Economics LLC, cut his gross domestic product forecast to 2.6 percent from 3 percent, while raising it for the October-December period to 3 percent from 2.8 percent.
Read more from BI Economics: Lousy retail sales aren't just Harvey-related
The economy grew at a 3 percent annualized rate last quarter, the fastest in two years. Consumer spending, the biggest part of the economy, may now be hard pressed to match the 3.3 percent gain of the second quarter.
Weaker results at auto dealerships played a big role in the pullback in retail sales, partly reflecting the hurricane impact and also the ongoing slowdown in the industry. Purchases at vehicles and parts dealers dropped 1.6 percent in August after no change in July. Overall, only five of 13 major retail categories showed a decline last month, while furniture outlets and restaurants posted sales gains.

Sales at nonstore retailers fell 1.1 percent in August following an upwardly revised 1.8 percent gain. Some of that may have been payback after Internet-driven purchases got a boost in July from Amazon.com Inc.'s Prime Day event. This, rather than the storm impact, may be "a more plausible alibi" for the sales setback, Michael Feroli, chief U.S. economist at JPMorgan Chase & Co. in New York, said in a note.
"Rather than comb the data for apparent anomalies it may be fairer to say that after a very strong Q2 consumers are taking a bit of a breather this quarter," Feroli wrote.
The Commerce Department said in a special notice that it couldn't isolate the effect of Hurricane Harvey on the data because it tracks activity on a national scale. The Fed, on the other hand, issued a note saying it made some assumptions about output in affected areas when actual data weren't available, using procedures similar to previous major weather events.

Factory output wavered in August after Harvey slammed into the nation's energy heartland. The decline was the largest since May and reflected a 0.9 percent slump in the production of non-durable goods including chemicals and petroleum, the worst since January 2014.

Even so, the steady pace of underlying demand in the U.S., combined with improving overseas markets, bodes well for the manufacturing outlook. The New York Fed's so-called Empire State index on Friday showed factory activity in that area continued to expand strongly in September after reaching an almost three-year high last month.
— With assistance by Christopher Condon, and Agnel Philip
Before it's here, it's on the Bloomberg Terminal.
LEARN MORE