Equifax Says Fewer Than 400,000 U.K. Consumers Affected by Hack
By
Says those customers probably not at risk of identity theft

Hackers stole names, dates of birth, emails and phone numbers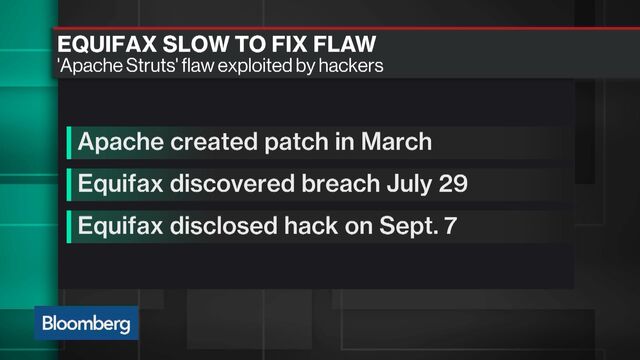 Equifax Inc. said hackers accessed personal information for fewer than 400,000 consumers in the U.K.
Intruders were able to access names, dates of birth, email addresses and phone numbers as part of the breach, Equifax's U.K. subsidiary said Friday in a statement. Financial data, addresses and passwords for those customers weren't exposed.
"Due to the nature of the information, Equifax believes identity takeover is unlikely for the U.K. consumers who had their data potentially accessed in this incident," the company said in the statement.
Equifax said last week that hackers accessed sensitive data -- including Social Security numbers, driver's license numbers, names and addresses -- for as many as 143 million U.S. consumers. The company said at the time that customers in the U.K. and Canada were also affected.
The U.K. customers' personal information was available to hackers because of a mistake that allowed a limited amount of data from the region to be stored in the U.S. between 2011 and 2016, according to the statement. That problem was corrected last year, Equifax said.
Before it's here, it's on the Bloomberg Terminal.
LEARN MORE