Eastern Nigeria Tensions Rise Over Demands for Secession
By
Nigerian military labels secessionist group 'terrorist'

Government troops clash with protesters pursuing independence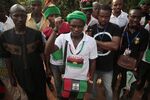 Tensions in southeastern Nigeria have escalated as government troops clashed with supporters of a campaign to establish an independent state for the mainly ethnic Igbo region who the military described as terrorists.
The unrest this week left several people dead and injured in the cities of Umuahia and Aba, strongholds of the Indigenous People of Biafra, or Ipob, whose leader Nnamdi Kanu has threatened to disrupt state elections unless there's a vote on secession. A bid to establish an independent Biafra state sparked a 1967-70 civil war that claimed more than a million lives.
The deteriorating situation in the southeast is compounding the security concerns for President Muhammadu Buhari's administration, which is battling the Islamist militant group Boko Haram in the northeast. It's also ratcheting up tensions in other parts of Africa's most populous nation, which is roughly divided between a mainly Christian south and a Muslim north. The central state of Plateau imposed a night-time curfew in its capital, Jos, after ethnic Igbos and Hausas clashed on Thursday.
"The military response is ill-advised, and it is playing right into the hands of Ipob and buying them more sympathizers," said Idayat Hassan, executive director of the Abuja-based Centre for Democracy and Development. "This is an issue that should have been settled politically."
In a statement Friday, military spokesman John Enenche described Ipob as a "militant terrorist organisation." Ipob established its own secret police and a Biafra national guard, and attacked a military patrol on Sept. 10 with Molotov cocktails, stones and machetes, he said in a statement.
The leadership of Kanu's group had said it was planning to meet Friday to decide whether to stick to its commitment to nonviolence or begin to defend itself against what it describes as attacks by security forces.
Operation Python Dance

The Nigerian army has sent troops to the area as part of Operation Python Dance, which it says is targeting criminals, kidnappers and secessionists.
The military announced on Thursday an investigation of its troops' behavior after video clips circulated on social media that purported to show Ipob members shot dead and others being tortured and forced to swim in a dirty pond.
"Soldiers found violating the rules of engagement will face the full wrath of the military justice system," the army said on Twitter.
Kanu, who was freed on bail in April while facing treason charges, has achieved a cult-like following among some of the region's unemployed youth at a time Nigeria is facing its worst economic slump in more than two decades. Yet governors and another pro-secessionist group have criticized him for threatening to disrupt balloting, with gubernatorial and assembly elections in Anambra state due in November.
As the tension rises in the east, Boko Haram has stepped up its attacks in the northeastern state of Borno in recent months in a conflict that has claimed the lives of about 20,000 people and left, according to the United Nations, 5.2 million people needing food assistance.
In the southern Niger River delta, home to the country's oil and gas industry, militants demanding more local control for the region's resources sabotaged oil facilities last year, forcing output to its lowest level in decades at a time of slumping oil prices.
— With assistance by David Malingha Doya
Before it's here, it's on the Bloomberg Terminal.
LEARN MORE