Black Wednesday Crash's Chancellor Sees Post-Brexit Pound Surge
By and
Former finance minister Lamont says EU deal may lift sterling

Britain still attractive destination for investment: Lamont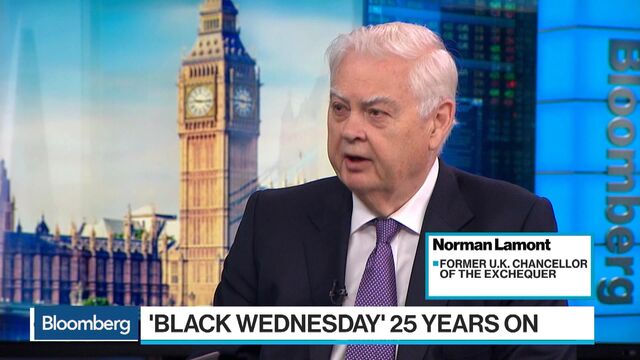 The man who faced one of the pound's biggest crises sees the currency recovering from Brexit.
Sterling could appreciate "considerably" if the U.K. and European Union reach agreement in the Brexit talks, according to Norman Lamont, the former Chancellor of the Exchequer when Britain tumbled out of Europe's Exchange-Rate Mechanism 25 years ago, a day known as "Black Wednesday."
The pound rallied this week to its highest level against the dollar since just after the Brexit vote, yet on a trade-weighted basis is still close to a record low as the complex divorce discussions between Britain and the EU cloud the outlook. Even so, the U.K. is still an attractive destination for foreign investment and the easing of uncertainty with a pact would boost the currency, said Lamont.
"I personally would not be surprised if after the negotiations are completed, and assuming they're successful, sterling didn't strengthen quite considerably," he said in an interview. "The current weakness of sterling is partly a phenomenon of euro strength."
On Sept. 16, 1992, the pound fell more than 4 percent against the dollar as the U.K. exited Europe's ERM -- which involved the pegging of regional currencies in bands to one another in a precursor to the euro. It was one of Britain's biggest post-World War II political crises and caused an estimated cost to the country's foreign-exchange reserves of 3.3 billion pounds ($4.4 billion). George Soros said he made $1 billion from selling sterling he did not own.
A quarter of a century on, the pound's prospects are still being determined by Britain's relationship with Europe. Sterling fell more than 8 percent the day after the U.K. voted to leave the EU last year.

"The main consequence of 1992 was to solidify British public opinion against the euro and to make it more skeptical about our EU membership," said Lamont, now 75 and an adviser to various companies including Stanhope Capital Group and BC Partners LLP. "It's an extraordinarily long journey to go down and decide it's a dead end."
The pound's slide stems from "the unfortunate flip-flop that the U.K. has had in its psyche almost since time immemorial with Europe," said Paul Chappell, who was Bank of America's head of global foreign-exchange in 1992 and is now chief investment officer at C-View, a money manager. "What happened 25 years ago and what's happened with Brexit are endemic of the same sort of thing."
While Brexit uncertainty has pushed the pound down to its lowest level since at least 1990 on a trade-weighted basis, it has rallied against a weakening dollar this year on expectations for a U.K. rate increase in 2018. Lamont said markets were "rather bored" with the day-to-day headlines about Brexit and investors will focus more on fundamentals.
"By and large the economy's not done too badly," said Lamont, who managed the U.K.'s finances under Prime Minister John Major after being in Margaret Thatcher's cabinet. "The depreciation of sterling makes assets and companies look more attractive to purchasers."
— With assistance by Stefania Spezzati
Before it's here, it's on the Bloomberg Terminal.
LEARN MORE