Balance of Power: Kim's Missile Program May Be Unstoppable Now
By and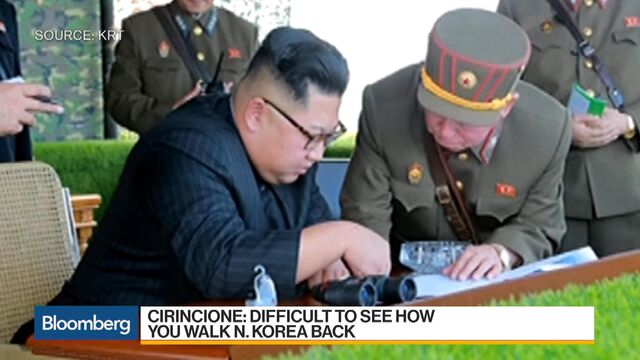 North Korea waited just days to defy new United Nations sanctions by sending a missile over Japan, where millions of people watching breakfast television saw their screens suddenly turn black aside from two ominous words in white: "Missile Launch."
The provocation, which follows a slew of missile tests and North Korea's largest nuclear detonation yet, prompted the U.S. to again call on China to pressure its ally and neighbor by cutting off its oil supply. Problem is, Kim Jong Un may cope even if that happens.
Energy analysts say North Korea could take lessons from history, including Nazi Germany and Japan during World War II. To overcome crude oil shortages, both converted coal to liquid fuel using technology now about 100 years old. South Africa used it too, during the 1980s oil embargo.
Even if North Korea can't ramp up a coal-liquefaction program fast, it could probably cut oil consumption by ordering people to walk rather than drive.
That suggests China has even less leverage over Pyongyang than U.S. President Donald Trump claims, and further reduces the odds of it nudging Kim to talks. Meanwhile, another round of UN penalties risk being even more token in nature.

Sign up to receive the Balance of Power newsletter in your inbox, and follow Bloomberg Politics on Twitter and Facebook for more.
Global Headlines
London Underground blast | Police are treating an incident on the U.K. capital's subway as terrorism, after a number of people were injured in a fire. Parsons Green station remains cordoned off as counter-terrorism police investigate. Foreign Secretary Boris Johnson urged Londoners to "keep calm and go about their lives in the normal way."
Build the wall...later | Trump's deal with Democrats aimed at shielding some young people from deportation has been matched by a softer tone on his campaign pledge to build a Mexican border wall. "We will build the wall later," Trump said yesterday. Conservatives fear he's backtracking, a move one said would "crack his base." 
Ties that bind | The euro area needs a fully fledged European Monetary Fund to strengthen the currency bloc, Slovak Finance Minister Peter Kazimir told Viktoria Dendrinou and Radoslav Tomek. That's just one of many ideas being floated to integrate the remaining 27 members of the region after the U.K.'s departure. Others include enhanced military cooperation and the creation of a euro finance minister.
Southeast Asia's tinderbox | Violence that's forced almost 400,000 Muslim refugees to flee Myanmar - and fueled criticism of the country's Nobel laureate leader, Aung San Suu Kyi - is threatening to also deepen sectarian tensions across the region. Religious groups in neighboring nations have rallied in support of the Rohingya, while al-Qaeda, ominously, has called on Muslims to give the ethnic group money and military support. 
Tillerson gives Tehran an "F" | Iran is "clearly in default" of expectations under its 2015 nuclear deal, U.S. Secretary of State Rex Tillerson said, highlighting a rift with European allies and signaling the Trump administration may walk away when it next reviews the deal in October. The remarks drew a swift response from British Foreign Secretary Johnson, who has said the deal is working and must be adhered to.
And finally… Germans can't complain about a lack of options in next week's election. Like elsewhere in Europe, mainstream party loyalties are eroding and alternative groupings are trying to woo an increasingly skeptical electorate. But only in Germany can you vote for a hip-hop party demanding state support for graffiti and breakdancing, environmentalists who want the whole country to turn vegan, or a dadaist group that opposes capital letters.

Before it's here, it's on the Bloomberg Terminal.
LEARN MORE