Your Evening Briefing
Here are today's top stories
Bloomberg News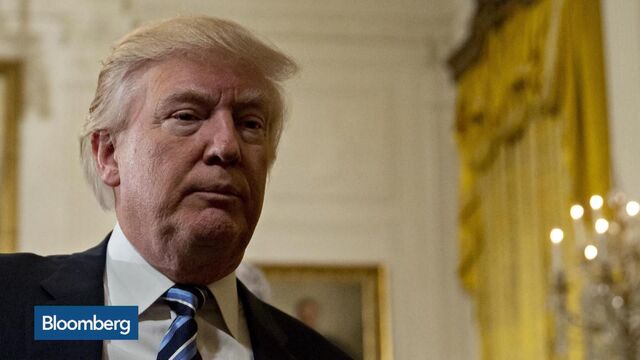 Want to receive this post in your inbox every afternoon? Sign up here.
How's this for irony? Pharma bro Martin Shkreli, who was recently convicted of fraud, may have been played. His $2 million Wu-Tang album, the most expensive record ever sold, might not actually be… a Wu-Tang album. Bloomberg News reporters Devin Leonard and Annmarie Hordern have the full story here. In other Shkreli news, the former pharmaceutical executive was jailed Wednesday—but not for his fraud conviction.—Katie Robertson
Trump and Democrats near another deal, this time on "Dreamers."​​​​ President Trump said he's close to a deal with congressional Democrats to permanently safeguard from deportation nearly a million immigrants brought illegally to the U.S. as children—people whose protections he promised as a candidate to end on his first day in office. Trump also said the deal to reinstate DACA, an Obama-era program, wouldn't include money to construct a wall on the border with Mexico.
North Korea threatened to use a nuclear weapon to "sink" Japan. Kim Jong Un's regime also said it would turn the U.S. into "ashes and darkness." The comments, which came after fresh United Nations sanctions were agreed upon this week, are likely to exacerbate tensions in North Asia. There are also reports North Korea may be preparing another missile test.
Motel 6 just left the lights on for ICE. Some Phoenix locations have been voluntarily handing over guest information to U.S. Immigration and Customs Enforcement employees, and at least 20 undocumented people have been arrested. The role of Motel 6 outposts aiding U.S. immigration enforcement raises the question: are other chains doing the same thing?
Bitcoin crashed after a Chinese exchange said it will halt trading. The cryptocurrency fell for a fifth day, the longest losing streak in more than a year, after one of China's largest online exchanges said it would stop handling trades by the end of the month amid a government crackdown. China accounts for about 23 percent of bitcoin trades and is home to many of the world's biggest bitcoin miners.
Nestle is buying a majority stake in coffee roaster Blue Bottle. The Nespresso owner is looking to bolster its lead in the java market amid increasing demand for upscale blends. Blue Bottle, which is based out of California, sells coffee within 48 hours of roasting it and gives Nestle a bigger bite of the U.S. market.
Who is Warren Buffett's successor? The next CEO of Berkshire Hathaway is one of the most guarded secrets in the business world. That didn't stop JPMorgan's new Berkshire analyst from placing odds on one man: Greg Abel. The 55-year-old is the head of Berkshire's utility businesses.
How rich Chinese use visa fixers to move to the U.S. Have a spare $500,000 to invest in an economically distressed American area (that actually isn't distressed at all)? China's EB-5 fixers will help you every step of the way. They've turned some of the world's most forbidding bureaucratic machinery into a kind of consumer good for China's rising wealthy class.  
Before it's here, it's on the Bloomberg Terminal.
LEARN MORE