The Great Yield Debate Heats Up With Latest U.S. Inflation Read
By
Hot money betting Treasury yields to climb, CFTC data show

Asset managers are still solidly in secular stagnation camp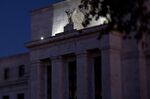 Investors are taking sides in one of the biggest debates driving financial markets: whether inflation is finally set to become a trigger for higher yields, or if secular stagnation of sorts will persist, keeping rates near historic lows.
Thursday's U.S. economic data favor the camp girding for higher yields. Consumer prices rose 1.9 percent in August from a year earlier, beating the median forecast and signaling that inflation may be creeping back toward the Federal Reserve's 2 percent goal. Five-year Treasury yields touched the highest in a month on the report, while the dollar briefly extended a rebound from the lowest in more than two years.
Traders also ramped up bets on another 2017 Fed hike. Goldman Sachs Group Inc. now sees a 60 percent chance of a third rate hike this year. The path of the Fed, after an expected announcement next week on the timing of its balance-sheet tapering, looms as the key to the yield debate. Even before Thursday's data, some investors were banking on one more hike by year-end, even though policy makers were starting to recognize a softening in the outlook for prices.
"I am still in the December camp," said Deborah Cunningham, chief investment officer for money markets at Federated Investors, which oversees $242 billion in money funds. After unveiling the start date for reducing its balance sheet next week, "the Fed will keep on track for a December move in rates."
Futures data bring home the divergence between the two sides.
On the one hand, leveraged accounts such as hedge funds, which tend to use borrowed cash to enhance returns, are of the view that yields will rise as the Fed tightens again. They've boosted net-short wagers to the most aggressive since February, according to the latest CFTC data.

And then there's the real-money players, such as global macro funds, which manage much of the world's investment assets and tend to hold longer-term views. They're going the other way, seeing little risk of yields breaking to the upside. After scaling back net bullish wagers from January to July, they've been jumping in again.

Gene Tannuzzo, a money manager at Columbia Threadneedle, which oversees $473 billion, is more in line with those anticipating higher yields. He isn't buying into the view that the balance-sheet unwind will be akin to watching paint dry.
"We are a little bit more concerned about how this Fed balance-sheet run-off will go than the market is right now," he said. "The Fed can't have it both ways -- they can't say that QE helped on the way in but it won't matter on the way out."
There's another way to see the divide on Wall Street. While the consensus for the end of next year is for 10-year yields to rise to 2.99 percent, from below 2.2 percent now, the forecasts range from as low as 1.85 percent to as high as 3.62 percent.
Before it's here, it's on the Bloomberg Terminal.
LEARN MORE