What a Difference a Year Makes in Canadian Bonds, in One Chart
By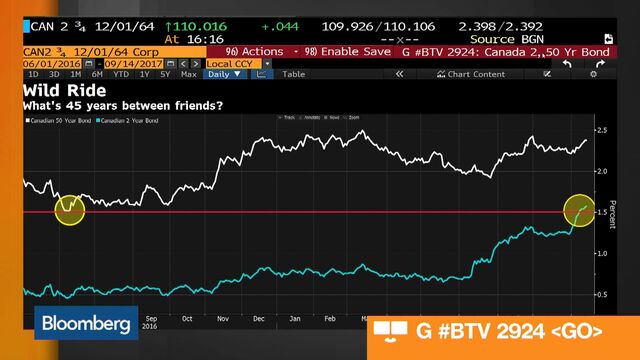 More often than not, it usually pays to wait. In the case of Canadian bond investors, that old adage couldn't be truer when it came to the past 14 months.
Canadian two-year sovereign bonds are yielding about 1.50 percent, or around what the nation's 50-year securities were in early July 2016, just before growth took off and the central bank embarked upon a more aggressive tightening cycle than many market participants and economists envisaged.

While investors who purchased either security will be repaid, those who waited to buy the two-year bond now are getting about the same yield they would have got a year earlier if they went long. The only difference is that the others are locked in for about 45 years.
Before it's here, it's on the Bloomberg Terminal.
LEARN MORE