politics
Wall Street's Lunch Club Is Planning a Reboot in Trump's D.C.
By
Financial Services Forum has hired HSBC lobbyist Fromer

Exclusive group limits membership to biggest financial firms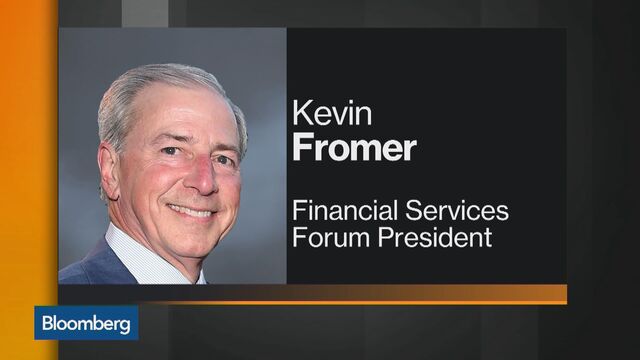 Wall Street's most elite trade association has hired a former Treasury Department official as it seeks to reestablish its lobbying heft in Washington.
Kevin Fromer, executive vice president in HSBC Holdings Plc's public policy office, was named the president of the Financial Services Forum today. As head of the Treasury's legislative affairs office under George W. Bush, Fromer helped push a $700 billion bank bailout through Congress during the 2008 financial crisis.
The forum limits its membership to about 15 chief executive officers from the largest banks, mutual funds and insurers. It is affectionately known in the industry as the CEO Washington lunch club because it regularly holds intimate, off-the-record meetings with top government officials. Lloyd Blankfein of Goldman Sachs Group Inc., JPMorgan Chase & Co.'s Jamie Dimon and James Gorman of Morgan Stanley are among the group's active participants.
"We are excited to confirm that Kevin will lead this organization to promote a healthy financial system that supports economic growth and opportunity for all Americans," Jen Scungio, a spokeswoman for the forum, said in a statement. Fromer, 57, didn't return calls seeking comment.
Fromer will replace Rob Nichols, another former Treasury official who left in 2015 to lead the American Bankers Association. The forum job pays well: Nichols earned about $1.2 million in 2014, his last full year there, according to tax filings.
The forum's public policy efforts have been largely dormant for the past year. After Nichols left, most of the group's top staff also departed for new jobs.
Downward Spiral
Fromer will be charged with boosting the industry's image and political fortunes, which have been on a downward spiral since the 2008 crisis. The Trump administration's promises to roll back financial rules and cut taxes have given Wall Street bankers hope that they can get back in the mix in Washington.
Before taking the Treasury job, Fromer spent two decades working in the House of Representatives, ultimately becoming a senior aide to Speaker Dennis Hastert.
Bank of America Corp. CEO Brian Moynihan, the forum's chairman, has been leading the reboot effort, people familiar with the matter said. Several additional employees are expected to be hired soon now that Fromer is on board, they added.
While there was some debate about shutting down the association in the wake of all the departures, the members ultimately decided it was worth keeping because of its focus on advocacy for the largest financial firms, something that no other Wall Street trade group does, the people said. Plus, the CEOs were loath to give up the forum's twice yearly Washington meetings where they break bread with Treasury secretaries, White House aides, Federal Reserve governors and members of Congress.
(
Updates with spokeswoman quote in fourth paragraph.
)
Before it's here, it's on the Bloomberg Terminal.
LEARN MORE