U.S. Judge Urges Government to Extend 'Dreamers' Deadline
By
Judge says only Dreamers will be harmed if U.S. doesnt act

Garaufis cites Trump's tweets lauding dreamers at hearing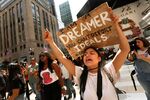 A federal judge in New York strongly suggested to Justice Department lawyers that the government extend an Oct. 5 deadline for so-called Dreamers to renew their permits to work legally in the U.S.
U.S. District Court Judge Nicholas Garaufis in Brooklyn, New York, questioned why the deadline for the program, known as Deferred Action for Childhood Arrivals, or DACA, shouldn't be extended. 
Attorney General Jeff Sessions announced Sept. 5 the administration had decided to end the Obama-era program and gave Dreamers until Oct. 5 to reapply for their permits. The program is set to formally end on March 5.
In a hearing Thursday, Garaufis warned that he could find the government's actions to end the program for almost a million immigrants "arbitrary and capricious." President Donald Trump described Dreamers as "good, educated and accomplished young people" in an early-morning tweet Thursday.
"We have a president who says this is going to affect 'all these wonderful people,"' Garaufis said. "The deadline can be extended and no one would be harmed by the extension, certainly not the 800,000 people who are sweating that someone will knock at their door and send them to a country they don't even know with a language they don't speak. They're the only people who will be harmed."
The request came in a hearing for a 2016 suit brought by Martin Batalla Vidal, 26, a Queens student who was brought to the U.S. from Mexico at age six and is challenging the rescission of his work permit in 2015.
Batalla Vidal seeks to amend his lawsuit to include allegations similar to those filed by New York State and 15 state attorneys general against the Trump administration after Sessions announced plans to end the program.
Mixed Messages
While he didn't make any decision, Garaufis, a Clinton appointee, spoke pointedly to Brett Shumatte, a Justice Department lawyer who argued the U.S. would be harmed by "litigation risk" if the Dreamer program continued and deadlines were extended.
Garaufis suggested Shumatte relay his concerns to the Trump administration and indicated that he was troubled by the mixed messages between the president's tweets and the stance taken by government lawyers, including Sessions.
The judge urged the government to voluntarily lift the deadlines and let the president and Congress resolve the issue through Legislation.
"I'm concerned that if the government pursues this deadline, the consequences will be far greater in scope," he said. "The court is deeply concerned with how this would play out if there isn't some movement with this date."
Fifteen states, including New York, sued the Trump administration for ending the Obama-era program. That case has also been assigned to Garaufis.
Garaufis scheduled the next hearing for Sept. 26 to hear if the government would agree to extending the deadline.
Before it's here, it's on the Bloomberg Terminal.
LEARN MORE