The Question of Brexit and the 'Norway Model' Hasn't Gone Away
By
Carl Baudenbacher, head of EFTA court, speaks at Chatham House

He found it 'remarkable' U.K. cited EFTA in position paper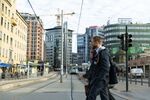 Brexit Czar David Davis said this month he gave joining the European Free Trade Association after Britain leaves the EU "considerable thought" before discarding it. But the question of whether it's a plausible outcome to the U.K.'s divorce from the European Union hasn't gone away.
Carl Baudenbacher, president of the EFTA court, finds it "remarkable" that the idea came up in a U.K. policy document in August, as it had never been raised before.
Speaking on the record at Chatham House in London, the 70-year-old judge took questions on what is often referred to as the 'Norway model' because of how the Nordic country enjoys access to the common market while not being part of the bloc.
Read about why we are talking about Norway and Brexit in same breath
On Sept. 7, Davis, the Brexit secretary, said that joining the EFTA "seemed to me to be more complicated, more difficult and less beneficial."
Baudenbacher says he's had no discussions with the U.K. while he's been in the country and there is no open line of communication between his court and members of the government.
But asked about how a British membership of EFTA could come about, he outlined three options: 'Either to become a fully fledged EEA member state on the EFTA side, or to dock to the court for the foreseeable future, nothing is eternal, or to dock to the court for a transitional period."
Before it's here, it's on the Bloomberg Terminal.
LEARN MORE