Russia Blames Islamic State for Nationwide Wave of Bomb Threats
By
130,000 people evacuated across country over 2 days, RIA says

Anonymous hoax calls traced to foreign-based terrorist members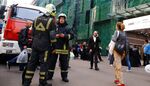 Russian security services believe Islamic State is behind a wave of hoax bomb threats that have forced the evacuation of tens of thousands of people from government buildings, shopping malls and airports across the country, state news service RIA Novosti reported.
Reinforcing concerns about terrorist risk, RIA on Thursday cited an unnamed security official as saying that investigators had traced the calls to people based abroad linked to the extremist group and other organizations. Islamic State has claimed responsibility for a series of deadly attacks in Russia, including a suicide bombing in April in St. Petersburg that killed 14 people.
Officials called the wave of hoaxes unprecedented. More than 130,000 people were evacuated over the past two days as a result of the bomb threats, RIA said, with more reported Thursday. In Moscow, the hoaxes led to the clearing of an iconic department store on Red Square, three railway stations, schools and other government buildings Wednesday. In total, across Russia more than 420 buildings were affected. On Thursday, officials said eight schools in Moscow were evacuated, as well as several official buildings in St. Petersburg.
Earlier in the week, Russian officials had said the bomb-threat calls may have been linked to Ukraine, but there was no mention of that claim in Thursday's report.
Islamic State has vowed to take revenge for Russia's intervention in Syria, where its air campaign has enabled President Bashar al-Assad to recover control over a large part of the country. The jihadists are under attack on two fronts by U.S.-backed forces and Syrian troops and their allies.
Before it's here, it's on the Bloomberg Terminal.
LEARN MORE