RBNZ Faces Biggest Revamp in Decades If Labour Wins Election
By
Polls show Labour, National parties neck-and-neck before vote

Next permanent governor may lose sole decision-maker role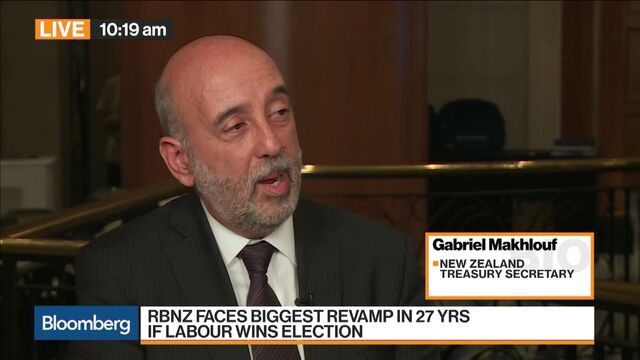 New Zealand's central bank may be facing the biggest shake-up to the way interest rates are decided since it pioneered inflation targeting three decades ago.
The main opposition Labour Party, which has a chance of victory in a Sept. 23 election that's too close to call, wants the Reserve Bank to add full employment to its existing sole mandate of price stability. It also proposes policy be decided by a committee that would include external members, rather than the governor as lone decision maker.

While adding employment would bring New Zealand into line with the Reserve Bank of Australia and the Federal Reserve, scrapping the sole focus on inflation adds to uncertainty brewing in markets about a potential new government and its economic policies. The prospect of a new RBNZ chief being appointed in the next few months to succeed Graeme Wheeler is further fueling the anxiety.
"It will probably all come down to how the next permanent governor decides to interpret any changes," said Paul Dales, chief Australia and New Zealand economist at Capital Economics in Sydney. "If Labour were to win and its policies weakened growth and inflation, then it would take even longer to satisfy a dual mandate. A growth-minded governor may be more inclined to keep interest rates lower for longer."
New Zealand's dollar became the second-worst performer in a group of 10 currencies the past month as traders cautiously watched Labour's popularity soar after it installed Jacinda Ardern as leader in early August. The kiwi dipped again late Thursday when a One News/Colmar Brunton poll showed Labour maintaining a small lead over the ruling National Party.

Too Close to Call
A poll-of-polls compiled for Radio New Zealand has the two major parties neck-and-neck, with both able to form coalition governments after post-election talks with smaller parties.
Wheeler's term as RBNZ Governor ends Sept. 26 with deputy Grant Spencer in a caretaker role until the end of March. After the election, the finance minister will make a permanent appointment based on the board's recommendation. Spencer isn't seeking the job but fellow deputy Geoff Bascand told local media he'd applied and some economists say assistant governor John McDermott is likely to have added his name.
An internal promotion isn't assured. Wheeler was the fourth consecutive appointee from outside the bank and the board has again advertised the vacancy globally -- suggesting it may seek a foreigner or a New Zealander based overseas with the requisite skills.
Former deputy governor Adrian Orr has declined to comment on reports on whether he is a candidate. Economists suggest another former deputy Roderick Carr and one-time assistant governor David Archer are also possible choices.
Inflation Target
New Zealand was first in the world to adopt a specific numerical target for inflation. It passed a law in 1989, which came into force the following year, that made price stability the RBNZ's sole focus and the governor solely responsible for decisions.
Labour plans to review the Reserve Bank Act to ensure the central bank has a wider objective and would negotiate its agreement with the new governor on that basis, Finance spokesman Grant Robertson said in an interview. It would retain the RBNZ's independence and the existing 1-3 percent inflation target.
"We wanted to be clear, in light of the fact that there was going to be a change in governorship, about some of the core elements of what we would like to see in the future," he said. "I'm open to discussions about the exact wording."
During Wheeler's tenure, inflation spent eight straight quarters below 1 percent and only once reached the 2 percent midpoint he focused on. He was criticized for raising rates in 2014. Robertson said the governor "might have made a different decision" if he had had a wider set of objectives at that time.
Avenue to Question
The RBNZ already takes unemployment into account when it sets policy so the change shouldn't make a big difference, said Christian Hawkesby, head of fixed income and economics at Harbour Asset Management in Wellington.
Still, "it creates an avenue for Labour to question and challenge the RBNZ as to whether they are making the right decisions," he said.
Decision-making by a central bank committee is common-place around the world, and since 2013 Wheeler has used his two deputies and the assistant governor in a collective role on deciding key policy, while retaining a veto.
External Experts
Robertson proposes expanding that committee by adding three independent experts, while a Treasury Department official would also participate without having a vote on the rate decision. Minutes and the voting record from each meeting would be published within three weeks.
"The four internal members are going to spend an awful lot of time convincing the other three," said Stephen Toplis, head of research at Bank of New Zealand in Wellington. "It's theoretically nice, but in practice it will probably make decision making more slow and turgid. The job of the central bank is hard enough as it is."
Gabriel Makhlouf, head of New Zealand's Treasury Department, said he favors formalizing committee-based decision making at the central bank but doesn't have a view on whether the committee should include external members.
"I can see why people may be concerned about that, and I can also see the value of having externals, and the different perspective they bring," he said in an interview in Singapore Friday. "It's something we are definitely going to study quite carefully before we decide what to recommend to the government."
If a National-led government is returned to power, Finance Minister Steven Joyce has said he's open to formalizing the existing committee structure but doesn't favor outside members.
"We should have a look at it," Joyce said in a July interview. "I wouldn't see radical change. I think the Reserve Bank model serves us very well."
— With assistance by Matthew Brockett, and Nariman Gizitdinov
Before it's here, it's on the Bloomberg Terminal.
LEARN MORE