There's One Stock That Always Rallies When a Big Storm Hits
By
Generac shares up about 19 percent since storms neared U.S.

Some residents could be blacked out for weeks after Irma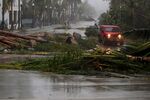 The wrath of hurricanes Harvey and Irma has led investors to bid up shares of the only publicly-traded U.S. company whose business mainly comes from selling backup power.
Generac Holdings Inc. has seen its stock price rise 19 percent since late August, just before the storms slammed into the southeastern U.S., knocking out power to millions. Demand for Generac's portable generators could add about 20 percent to the Waukesha, Wisconsin-based company's sales growth this year, according to Charles Brady, an analyst for SunTrust Robinson Humphrey.
"Any time you see a potential for power outages, people start piling into" the stock, Brady said.

Utilities are embarking on what's being described as the largest restoration effort in history after nearly 13 million people in Florida alone lost power this week after Hurricane Irma slammed the state. With some expected to be in the dark for weeks, sales of backup power sources should be brisk, Brady said.
Unlike competitors such as industrial giant Caterpillar Inc., Generac's primary business comes from selling portable gasoline-fueled power units and stationary natural-gas fueled generators for homes and businesses. They range in price from hundreds to thousands of dollars.
Irma, which struck Florida early Sunday, came about two weeks after Hurricane Harvey smashed ashore in Texas, knocking out U.S. oil refining capacity and causing widespread power outages and flooding.
50,000 Calls
"Demand was already strong after Harvey but it's been ridiculously strong the past two weeks," said Aaron Jagdfeld, Generac's chief executive officer, said in an interview. On Monday, the company fielded about 50,000 calls from people who had questions about the systems, Jagdfeld said.
"It's been crazy busy," he added.
Generac is looking to hire about 400 workers in Wisconsin to ramp up factory production over the coming weeks to help fill orders, he said. Backup diesel generators tend to be most popular immediately before and after a storm hits. 
The company could see added revenue of as much as $100 million over the next four to six quarters, Jagdfeld said.
"For us, it's a sizable bump up," he said.
Before it's here, it's on the Bloomberg Terminal.
LEARN MORE