Michael Milken Says Private Equity's 'Golden Age' Will Continue
By
Leverage, lack of lending covenants drive deals, he says

Sees Alibaba as world's biggest financial institution one day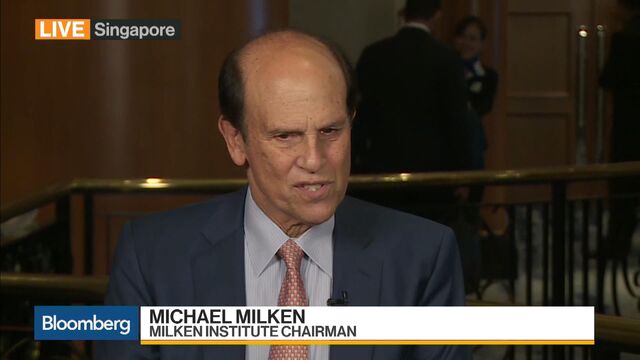 The private equity industry will continue to play a growing role in financial markets, fueled by low yields and investors' willingness to forgo traditional risk protections, Michael Milken said.
"This is their golden age," Milken, who helped pioneer the junk bond market at Drexel Burnham Lambert Inc., said Thursday in an interview with Bloomberg Television in Singapore. "You can leverage, you can borrow without covenants, and so for equity holders it affords you very unusual rates of return."
Private equity firms are raising near-record amounts of capital from investors starved for yield. So-called dry powder, money raised that hasn't been deployed, is at a record $963 billion, according to data from Preqin Ltd. Milken, who now runs his own research firm and focuses on philanthropy, said the decline of maintenance covenants, which help protect lenders from adverse credit events, is a key driver in the growth of private equity.
"They are playing an extremely important role in the market, and will continue in that private equity firms control more businesses than companies that are listed," Milken said at the Milken Institute Asia Summit.
For bond investors "today the yields are extremely low, and so therefore
you're not really getting paid much of a premium to invest, but even more
important is that the covenants are gone."
Read more about private equity's 'dry powder': QuickTake Q&A
Milken, 71, also said the financial industry will probably face disruption from the digital revolution that's upended industries globally.
Alibaba Group Holding Ltd., the Chinese e-commerce company, "is well on its way someday to being maybe the largest financial institution in the world," Milken said. Many consumers now have deeper relationships with digital businesses than they do with their banks.
"A billion people on the planet are going to one of Facebook's websites every day," he said. "These individuals in many ways feel closer to these companies than they do their financial institution."
Read more: Wealth Manager Urges Trump to Pardon Junk King Michael Milken
— With assistance by Haslinda Amin
Before it's here, it's on the Bloomberg Terminal.
LEARN MORE