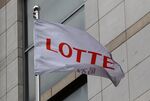 Why the sudden change of heart, brother?
After years of sibling rivalry at South Korea's fifth-largest conglomerate, Shin Dong-joo, the eldest of the two heirs to the Lotte Group family dynasty, pledged this week to sell most of his holdings in the company's candy, shopping, beverage and food units, according to Bloomberg News.
His decision paves the way for younger brother Shin Dong-bin to consolidate control of a soon-to-be-formed holding company that will house the four businesses, which collectively had $31 billion in annual revenue last year.
The news stirred speculation that the battle between the brothers is drawing to an end. That may be optimistic. It's hard to believe Shin Dong-joo just woke up one day, forgot how in 2015 his younger brother unceremoniously ousted him from the empire his father began building seven decades ago, and decided to respectfully withdraw.
It's especially unlikely considering Shin told Bloomberg's Sohee Kim in December that he would overthrow his younger sibling and his "final target" was to control Lotte. 
A more probable theory is that the elder brother is altering his war tactics.
It makes sense to let go of the fight for Lotte Corp., the newly formed holding company, where a recent ownership restructuring left the elder Shin brother with only 5.7 percent of the shares.

Instead, he can go after the web of dozens of privately held Lotte units that aren't subject to the watchful eye of public markets and government regulations.
The four listed businesses that make up the holding company account for less than half of Lotte Group's roughly $100 billion in assets. The rest is made up of privately held units including the group's Japanese arm and Hotel Lotte Co., which scrapped a planned $4.5 billion IPO last year after the founder and his two sons were charged with embezzlement and other crimes in the bribery case against impeached South Korean President Park Geun-hye. 
It turns out that while listed companies such as Lotte Shopping Co. grab all the headlines, they actually appear toward the bottom of a flow chart of group holdings. A privately held Japanese affiliate sits atop the Lotte Group structure and controls 99 percent of the hotel business, which, in turn, owns stakes in the new South Korean holding company.

Because of a Korean merger rule allowing minority shareholders to call in their chips in the case of a major corporate event, Shin Dong-joo can exercise his right to sell his shares to Lotte. Taking home an expected $600 million, the elder sibling could end up earning a premium on the sale if shares in Lotte affiliates extend their recent slump.

Instead of wasting time on a fight he can no longer hope to win, Shin Dong-joo could put that cash toward waging the battle for the company's Japanese affiliate and unlock greater control over the entire group.
Alternatively, as Gadfly has previously argued, the two brothers could forget about trying to get along and agree to divide the empire into two clean pieces, letting Shin Dong-bin control the Korean businesses he helped build while leaving the Japanese operations to his elder.
Shin Dong-joo's decision to sell might mark the end of a battle. It's unlikely to be the end of the war.
Before it's here, it's on the Bloomberg Terminal.
LEARN MORE