Five Things You Need to Know to Start Your Day
Get caught up on what's moving markets in Asia.
By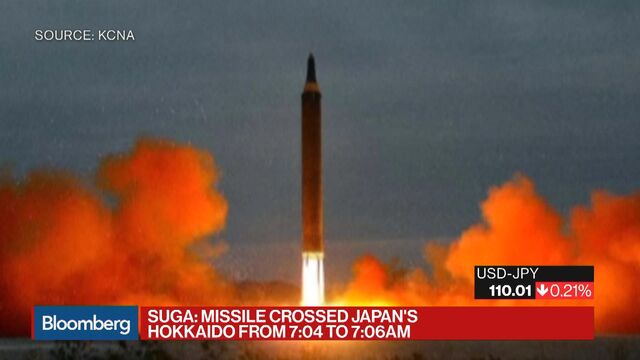 Want to receive this post in your inbox every morning? Sign up here.
North Korea said to launch missile over Japan, China crushes bitcoin (again), and more monetary tightening on the way. Here are some of the things people in markets are talking about.
Missile Launch
Japan said North Korea launched a missile over the northeast part of the country, and that it did not attempt to shoot the projectile down. The news sparked a sell-off in risk assets and sent investors scrambling for havens. The South Korean military conducted a drill about the same time, firing a ballistic missile of its own into the sea. North Korea earlier vowed to sink Japan and turn the U.S. into "ashes and darkness" following the latest round of sanctions against Kim Jong Un's regime. U.S. Secretary of State Rex Tillerson is pressuring China to keep an oil embargo, a "very powerful tool," as a potential option. China's ability to enforce sanctions against its neighbor have been hampered by smugglers working on the ground and at sea.  An improving economy has also hindered the ability of sanctions to bring Kim Jong Un to heel.
Two-Bit Coin
The most popular cryptocurrency plunged as much as 17 percent after online exchange BTC China halted new account registrations and said it would stop handling trades at month-end. A Chinese business news website is reporting that all bitcoin trading platforms in the world's second-largest economy have been directed to shut down at the end of September. Some analysts are speculating that the onslaught of bearish commentary and China's crackdown on cryptocurrencies is being fueled by political pressures emanating from Washington. Whatever the proximate cause, bitcoin is now in a bear market and on its longest losing streak in more than a year.
Hikes on the Menu

The Bank of England struck a hawkish tone on Thursday, with Governor Mark Carney warning that a hike would likely be appropriate "in the coming months." The British pound was the best-performing G-10 currency on the day as traders pulled forward their expectations for the timing for tightening. Meanwhile, the implied odds of a Federal Reserve interest rate hike by year-end firmed to nearly a coin flip after August inflation data ended a five-month streak of underwhelming price pressures, even as some Fed officials worry about slipping inflation expectations. Hurricane Harvey likely contributed to the rise in prices. The Treasury curve flattened, with 2-year yields climbing while 10-year yields dipped slightly.
Stocks Dip
2,500 will have to wait as the S&P 500 Index fell on Thursday, with acute weakness in tech shares. West Texas Intermediate futures cracked $50 per barrel before settling slightly below the important psychological level amid optimism about demand growth. The Bloomberg Dollar Index retreated; gold climbed.
Futures Dive
Nikkei 225 futures slumped after the missile test crossed the wires, while the Japanese yen surged. Economists expect the Bank of Russia to slash rates by 50 basis points to 8.5 percent in its decision at 7:30 p.m. Tokyo time after inflation sank to a record low in August. Other data on deck include New Zealand home sales for August, Indonesia's monthly trade balance, and Sri Lanka's second-quarter growth. We're also likely to get an update on Chinese credit growth and other monetary aggregates.
What we've been reading
This is what caught our eye over the last 24 hours.
(
Corrects description of South Korea's firing drill in second paragraph.
)
Before it's here, it's on the Bloomberg Terminal.
LEARN MORE