Dyson Sees No Deal on Brexit and Says It'll Hurt the EU More
By
WTO tariffs will 'hurt the Europeans more than the British'

CEO and founder made the comments in interview with BBC Radio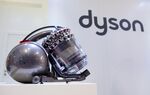 Follow @Brexit for all the latest news, and sign up to our daily Brexit Bulletin newsletter.
The man behind the Dyson vacuum cleaner expects the U.K. not to strike a Brexit deal with the European Union. While many consider that a worst-case scenario, James Dyson says those trade conditions "frankly are going to hurt the Europeans more than the British."
Dyson was an ardent backer of the Leave campaign last year and doesn't see a problem with the U.K. defaulting to World Trade Organization rules when it leaves the bloc in March 2019.
The Malmesbury, England-based Dyson Ltd. already pays the WTO tariff into Europe "and it hasn't hurt us at all -- we're one of the fastest growing companies in Europe," the engineer told BBC Radio on Thursday.
Progress in negotiations is slow, he added, because Britain's suggestions are "not being reciprocated by the other side." He went on to say that Dyson would not benefit from a transition extending the U.K.'s stay in the single market.
In February, Dyson announced it is creating a new 517-acre campus in the English countryside to expand its research and development in batteries, as well as robotics and artificial intelligence, amid rumors the company is also working on an electric car, having poached top figures from Tesla Inc. and luxury auto company Aston Martin Lagonda Ltd.
Dyson said any uncertainty from Brexit or elsewhere is actually an opportunity: "The rest of the world is growing at a far greater rate than Europe, so the opportunity is to export to the rest of the world and to capitalize on that."
When asked about any automotive ambitions, Dyson simply responded, "I think you're going to have to wait and see."
Before it's here, it's on the Bloomberg Terminal.
LEARN MORE