Drugmakers Aim at Early Stage Cancer With Immunotherapy
By and
New generation of drugs encourage tests in healthier patients

Response may better before tumors become 'big, bulky'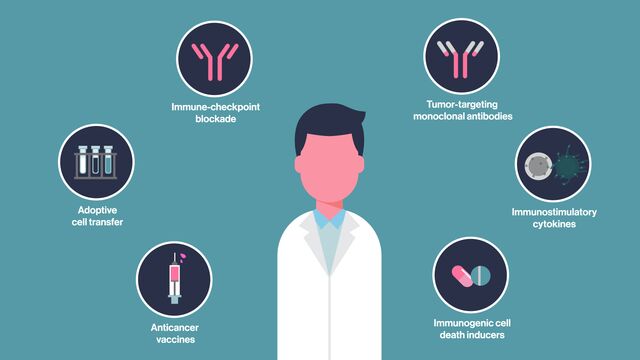 AstraZeneca Plc, Bristol-Myers Squibb Co. and other drugmakers are switching gears on standard drug development in an effort to quickly test powerful new therapies in earlier stages of cancer.
Treatments are usually first tested thoroughly in the sickest of cancer patients, before putting those with a better prognosis through harsh side effects and other risks of a drug trial. But the emergence of a new generation of drugs that deploy the immune system to eradicate tumors is encouraging sped-up testing in the initial stages of disease.
Use in earlier treatment might be a windfall for a class of drugs, called checkpoint inhibitors, that includes Merck & Co.'s Keytruda, and Roche Holding AG's Tecentriq, as more patients become eligible and boost sales that are already poised to reach about $32 billion by 2023. But the drugmakers will first need to convince doctors that the therapies' price tags -- they cost about $100,000 to $150,000 for a year of treatment -- are worth it, when patients with early stage cancer can benefit significantly from existing treatments.
'Big, Bulky Tumors'
"In late-stage disease, you have these big, bulky tumors," said Aiman Shalabi, who helped oversee Imfinzi's development at Astra until he became chief medical officer at the Cancer Research Institute in New York this year. "It's hard for the immune system to take out these big, massive tumors. The earlier the stage of disease, the more successful these agents have been."
Astra reported success with arresting mid-stage lung cancer after chemotherapy and radiation at the ESMO 2017 Congress in Madrid last weekend, showing that early treatment with immunotherapy can have real benefits. Bristol-Myers said at the same conference that a similar medicine, Opdivo, staved off the return of melanoma after it had been removed by surgery. Dozens of tests of checkpoint inhibitors in early cancers have been registered over the past three years. 
Astra's Imfinzi, the immunotherapy furthest along in early cancer treatment, may sell as much as $2 billion for treatment of mid-stage lung cancer, according to Bloomberg Intelligence. These studies of early treatment are still so new that they aren't part of most drugs' sales estimates. 
The number of early-stage lung cancer patients who undergo surgery is much greater than those whose disease is inoperable, said Roy Baynes, U.S. Merck's global clinical development chief. 
It's important to proceed with caution, as many patients diagnosed at the earliest stages are cured with surgery, radiation and chemotherapy, said Chris Boshoff, senior vice president for immuno-oncology at Pfizer. The company's goal is to produce more evidence of safety and efficacy in these patients so that the medicines will be an option for them, he said.
Doctors are excited about the idea of using these drugs in patients who've recently had their tumors removed by surgery to keep more of them cancer-free. Aimed at eliminating earlier cancers, surgery isn't the end of the story for most people, said Anthony Olszanski, vice chair of hematology and oncology at Fox Chase Cancer Center in Philadelphia. Microscopic bits of tumors can remain, and a high percentage of patients see them return, especially those with aggressive melanoma and lung cancer. Within five years, the majority of them die. 
Read more: Cancer Immunotherapy Offers New Promise but Peril Too
"There is a clear need to improve our odds in that setting," Olszanski said. "It is reasonable to take a drug that has relatively little side effect risk into a population that has high-risk disease, and apply that to the early setting, especially when the potential benefits are significant."
Lung cancer patients are particularly high-risk, he said. It is one of the most deadly cancers, diagnosed in about 220,000 Americans and killing about 155,000 each year, according to the American Cancer Society.
Patients may see benefits of being treated before their immune systems have been ravaged by cancer, chemotherapy and other toxic treatments, Boshoff said. That may lead to a greater and more durable response.
Improvements in early treatment may lead to screening campaigns to find more people who can benefit, AstraZeneca CEO Pascal Soriot said.
"We can see, now, the time when we can really make a big difference in treatment," Soriot said. "That time is not too far."
Before it's here, it's on the Bloomberg Terminal.
LEARN MORE