Ross Says He's Found Washington Is Actually a Decent Place to Live
By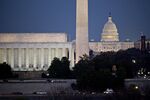 More than six months in, Commerce Secretary Wilbur Ross said he's discovered the Washington "swamp" is actually a pretty decent place to call home.
"Even swamps have attractive things that live in it," like frogs, Ross said at a Politico event on Thursday when asked how he views the capital. "While there are also poison snakes, that's not the total population." He added: "We are finding it a very habitable place, and in fact in many ways I wish we had discovered it earlier."
President Donald Trump has been criticized for failing to abide by his campaign promise to "drain the swamp" in Washington after stocking his cabinet with Wall Streeters and the ultra-wealthy like Ross, a billionaire.
Before it's here, it's on the Bloomberg Terminal.
LEARN MORE