Angolan Court Says Election 'Valid,' Dismisses Opposition Suits
By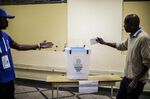 Angola's Constitutional Court declared the nation's Aug. 23 vote valid, paving way for the swearing in of Joao Lourenco as president of Africa's second-biggest oil producer next week.
The court dismissed each of four opposition parties' petitions demanding a vote recount on the basis that the National Electoral Commission didn't follow procedure when tallying ballots in 15 of the country's 18 provinces.
"There were no irregularities or abnormalities sufficient to affect results of the vote," Judge-President Rui Ferreira told reporters Wednesday in Luanda, the capital.
The country's biggest opposition party, the National Union for the Total Independence of Angola, and the Broad Consensus for Angola's Salvation - Electoral Coalition are among parties whose petitions were thrown out, he said.
The court's decision can't be appealed, meaning the 61 percent win by the ruling Popular Movement for the Liberation of Angola is final.
Before it's here, it's on the Bloomberg Terminal.
LEARN MORE