ACLU Asks Judge to Temporarily Halt Trump Trans Soldier Ban
By
Transgender soldiers are already being harmed, ACLU argued

Trump in August gave the military six months to craft a ban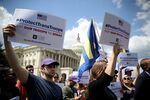 The American Civil Liberties Union asked a judge to temporarily stop the U.S. from enforcing any aspect of President Donald Trump's ban on transgender soldiers serving in the military until the issue is resolved by the courts.
Trump's Aug. 25 directive ordered the military to immediately stop paying for transition-related medical expenses, unless a service member's health was in jeopardy. The ACLU suit, and another by the Human Rights Campaign in Seattle, claim the plan violates the Equal Protection clause of the Constitution.
The president also gave Defense Secretary James Mattis six months to put a formal ban in place. The proposal is already harming transgender soldiers, the civil rights groups said Thursday in a filing requesting a preliminary injunction in federal court in Baltimore.
"The remarkable context of this case is that President Trump's asserted military justifications have already been studied at length and rejected by the military itself," the ACLU said in Thursday's filing.
The ACLU asked the Balitmore court to set an expedited hearing to discuss the injunction. In the Seattle case, Human Rights Campaign also requested an injunction on Thursday.
The White House didn't immediately respond to a request for comment. Trump and Mattis have claimed that transgender soldiers can't handle the stress of service and that the cost of surgeries is too high.
The ACLU's request for an injunction was accompanied by briefs filed by experts, including one by George Brown, a professor of psychiatry and the associate chairman for veterans affairs at the East Tennessee State University.
"There is no evidence that being transgender alone affects military performance or readiness," Brown said in the filing. "There is no medical or psychiatric justification for the categorical exclusion of transgender individuals from the Armed Forces."
The dispute was triggered by a three-part tweet by Trump on July 26, in which the president said he needed to reverse his predecessor's transgender policy to protect military readiness and reduce waste.
"After consultation with my Generals and military experts, please be advised that the United States Government will not accept or allow Transgender individuals to serve in any capacity in the U.S. Military," Trump tweeted. "Our military must be focused on the decisive and overwhelming victory and cannot be burdened with the tremendous medical costs and disruption that transgender in the military would entail. Thank you."
The ACLU claims the ban is Trump's attempt to please an ultra-conservative and religious base rather than a valid attempt to improve troop readiness. The HRC, a gay-rights group, said in its complaint that Trump's policy was "unsupported by any compelling, important, or even rational justification."
The ACLU case is Stone v. Trump, 17-cv-02459, U.S. District Court, District of Maryland (Baltimore), and the Human Rights Campaign suit is Karnoski v. Trump, 17-cv-01297, U.S. District Court, Western District of Washington (Seattle).
Before it's here, it's on the Bloomberg Terminal.
LEARN MORE