U.K. Unemployment at 42-Year Low Fails to Spur Wage Pickup
By
Jobless rate declines to 4.3%; wage growth stays at 2.1%

Figures highlight dilemma facing Bank of England officials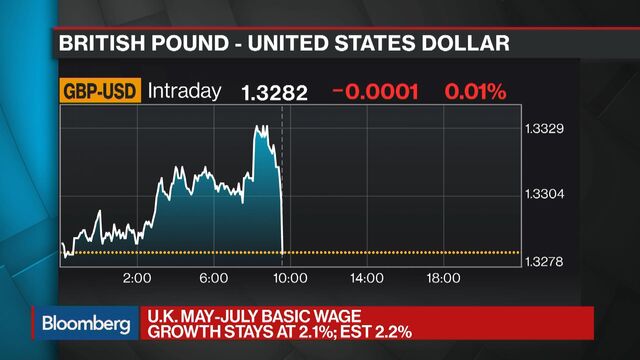 For British workers, the lowest jobless rate in more than four decades isn't enough to maintain their standard of living.
Basic wages rose an annual 2.1 percent in the three months through July, unchanged from the second quarter and below market forecasts, figures on Wednesday showed. Pay fell 0.4 percent when adjusted for inflation, which is now running just shy of 3 percent.
The pound weakened against the dollar after the report, and slid for the first time in four days versus the euro.

The squeeze has taken a toll on consumer spending, creating a drag on the economy. Bank of England Governor Mark Carney has said that an "element of Brexit uncertainty" is preventing firms from awarding bigger wage increases, while other explanations include poor productivity and companies clamping down on pay to offset rising import costs, another Brexit fallout.
Pressure on real incomes is particularly hitting public-sector workers, who have had pay increases capped at 1 percent since 2013. That followed a two-year freeze as the government sought to bring down the budget deficit.
Prime Minister Theresa May said this week that the government will relax the cap for police and prison officers but Trades Union Congress General Secretary Frances O'Grady responded by demanding "a pay rise across the board" for Britain's 5 million public-sector workers.
Her argument was bolstered by inflation data Tuesday showing price growth is accelerating again. It was at 2.9 percent in August, near its highest in five years.
The labor-market figures from the Office for National Statistics are proving a puzzle, as they come against a backdrop of record employment and growing skills shortages. The ONS data showed jobless rate fell to 4.3 percent in the latest three months, the lowest since 1975 and below the BOE's equilibrium rate.
They're also posing a dilemma facing BOE policy makers over when to raise interest rates. While a minority want to hike now, those arguing to keep the benchmark at a record low point to the growing strain on consumers from the sterling-driven surge in prices.
At Bloomberg Intelligence, Dan Hanson and Jamie Murray expect Brexit uncertainty to increasingly weigh on growth and the labor market, leading the BOE to keep rates on hold until 2019.
Before it's here, it's on the Bloomberg Terminal.
LEARN MORE