Shkreli Sent to Jail by Judge Over Clinton Hair Bounty
By and
Brooklyn judge revokes ex-pharmaceutical executive's bail

Shkreli convicted of fraud for deceiving hedge fund investors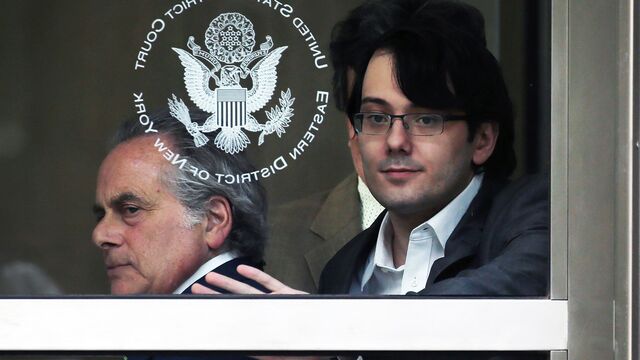 Martin Shkreli's big mouth landed him in jail even before his fraud conviction did.
A U.S. judge revoked the former pharmaceutical executive's bail Wednesday, ordering him jailed immediately, over a bounty Shkreli issued in a Facebook post for a strand of former Secretary of State Hillary Clinton's hair.
"The fact that he continues to remain unaware of the inappropriateness of his actions or words demonstrates that he may well be an ongoing danger or risk to the community," U.S. District Judge Kiyo Matsumoto said.
Shkreli, wearing a lavender button-down shirt and Dockers, was stone-faced as the judge handed down her decision. He was immediately taken into custody and led away from the courtroom by two deputy U.S. Marshals and into a prisoner holding cell adjacent to the sixth-floor courtroom.
He will be held at the Metropolitan Detention Center, according to his lawyer Benjamin Brafman. It's a federal jail in the Sunset Park section of Brooklyn which has housed terrorists and mobsters.
"We are obviously disappointed," Brafman said after the hearing. "We believe the court arrived at the wrong decision, but she's the judge and right now we will have to live with this decision."
Martin Shkreli's Fall: Why 'Most-Hated' CEO Is Strutting to Jail
Shkreli, 34, was convicted last month of three of eight charges, including two counts of securities fraud. He was acquitted of fraud charges related to the alleged looting of the drug company he founded, Retrophin Inc. He faces a maximum of 20 years in prison on each of the securities fraud charges, though he's likely to get a lesser term. He's scheduled to be sentenced on Jan. 16.
The conviction and pending sentencing didn't tame the brash executive known as Pharma Bro. In a now-deleted Facebook posting, in which he offered his followers $5,000 for a strand of Clinton's hair during her book tour, he caught the attention of prosecutors. They asked Matsumoto to revoke Shkreli's bail and throw him in jail because he's not only a convicted felon but his threats pose a danger to the community.
"He's reckless," prosecutor Jacquelyn Kasulis told the judge. "He doesn't get it. He doesn't respect the rule of law."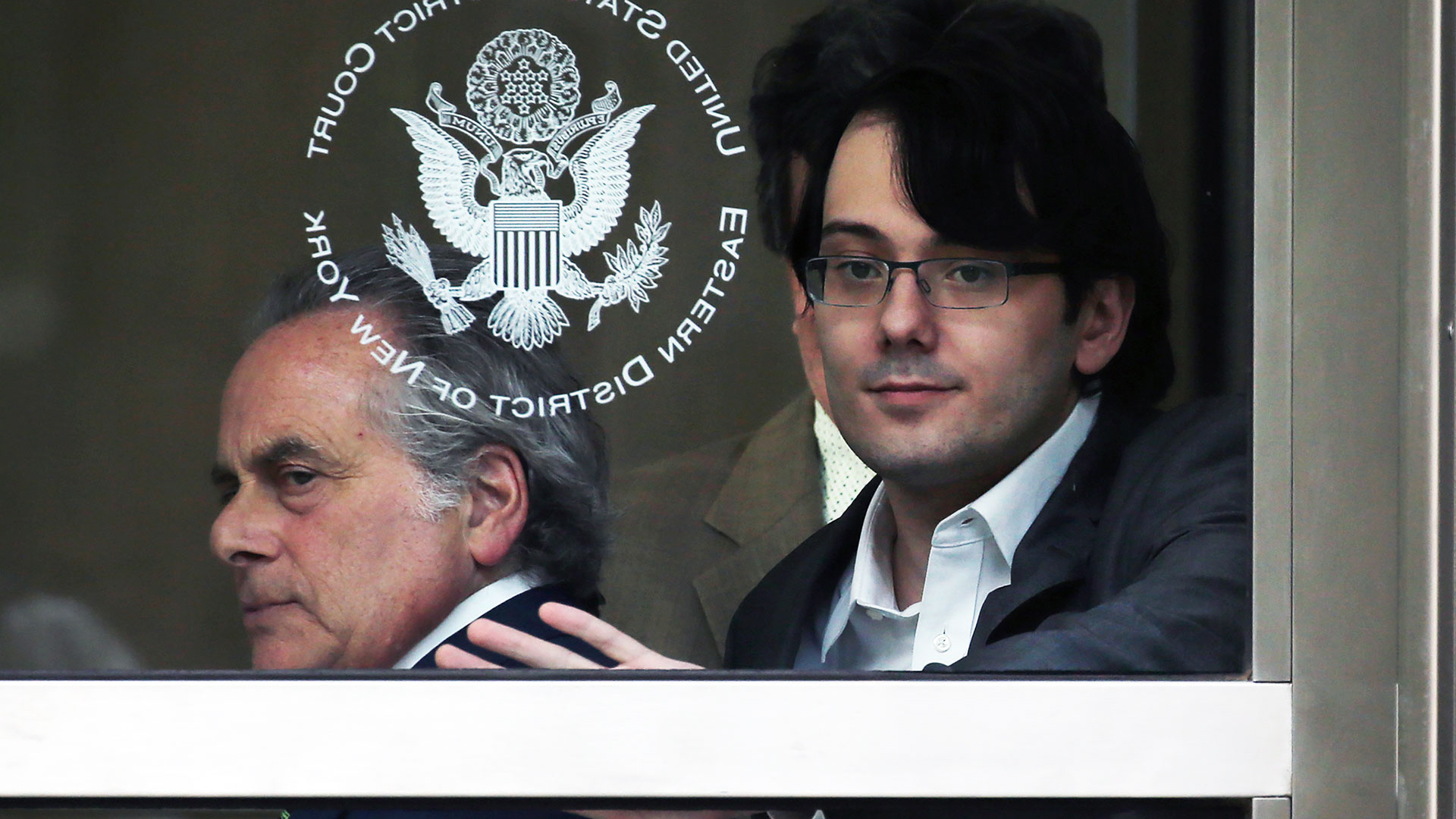 Shkreli appears to have violated state and federal laws prohibiting threats against the immediate family members of former presidents, the prosecutors argued. The comments prompted the U.S. Secret Service to start an investigation and boost security for Clinton, they said.
Why Shkreli Is Guilty When Investors Didn't Lose: QuickTake Q&A
Shkreli has a history of making provocative comments against specific women, the prosecutors said.
He was banned from Twitter in January for harassing a Teen Vogue writer and persisted in verbally badgering women online.
Shkreli responded to the government's request with a profanity in a Facebook post, adding "I will never kiss their ring or snitch. Come at me with your hardest because I haven't seen anything impressive yet."
He quickly backed off, writing an apologetic letter to the judge in a request to remain out on bail.
"Some may have read my comments about Mrs. Clinton as threatening, which was never my intention," Shkreli wrote. "I used poor judgment but never intended to cause alarm or promote any act of violence whatsoever."
Brafman vowed Shkreli would behave if the judge let him remain free until sentencing.
"Stupid doesn't make you violent," Brafman said. "Sometimes stupid makes you stupid."
Shkreli was just engaging in political satire in his comments about Clinton, Brafman said.
The judge wasn't buying it.
"What is so funny about this?" a visibly angry Matsumoto demanded. "He's soliciting an assault on another person in exchange for $5,000. Under the facts and circumstances, I'm going to respectfully deny your request to change my mind. I can't say with any certainty that the threats have not been taken seriously by anybody."
The case is U.S. v. Shkreli, 15-cr-637, U.S. District Court, Eastern District of New York (Brooklyn).
Quotes from this Article
Before it's here, it's on the Bloomberg Terminal.
LEARN MORE