Pete Domenici, New Mexico's Deficit-Hawk Senator, Dies at 85
By
The six-term Republican senator opposed supply-side economics

He was budget committee chairman under President Ronald Reagan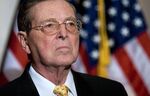 Pete Domenici, a six-term Republican U.S. senator from New Mexico who opposed the supply-side economic policies of President Ronald Reagan out of concern for widening budget deficits, has died. He was 85.
He died Wednesday at the University of New Mexico Hospital in Albuquerque, according to the Associated Press, citing his son, Pete Domenici Jr. The former senator had undergone abdominal surgery in recent weeks.
As the Senate Budget Committee's chairman under Reagan, Domenici sought to moderate proposed tax cuts and Pentagon spending. Reagan's budget director, David Stockman, branded him a "Hooverite" for seeking balanced budgets.
On one occasion, Reagan threw the phone on the floor after the New Mexico senator refused to raise the defense budget as much as the president had wanted, Domenici said, according to a 2004 article in the Albuquerque Journal.
Budget balancing vied with old-fashioned pork-barrel legislating -- Domenici was sometimes called "St. Pete" in his home state for the billions he rained on the Sandia and Los Alamos federal nuclear laboratories.
Energy Matters
He had a passion for all things nuclear, weapons but also power, the subject of his 2004 book, '' A Brighter Tomorrow: Fulfilling the Promise of Nuclear Energy.'' He matched it with a commitment to prevent the spread of atomic weapons by securing nuclear materials after the breakup of the Soviet Union.
With an owlish visage and gravitas to spare, Domenici was part of an older generation of Republicans who sought compromise in crafting legislation. He rejected House Speaker Newt Gingrich's partisan "Contract With America" in 1994 and was instrumental in passing the Balanced Budget Act of 1997, which some credit with helping create the budget surpluses of Bill Clinton's second term as president.
"Like others in this chamber, I served with Senator Domenici for many years," Senate Majority Leader Mitch McConnell, said in a statement. " I came to know him as smart, hard-working and dedicated -- and a very strong advocate for his home state of New Mexico."
Pietro Vichi Domenici was born May 7, 1932, in Albuquerque, New Mexico, according to his congressional biography. His parents were Cherubino Domenici, a wholesale grocer, and the former Alda Vichi. He was the youngest child and had five sisters. The family nicknamed the plump infant "Bocci," an Italian bowling ball.
Immigrant Parents
Both his parents were Italian immigrants. His father gained citizenship by fighting in the U.S. Army during World War I, Domenici said in a 2007 Senate speech for immigration reform.
Domenici attended St. Mary's High School in Albuquerque before earning a bachelor's degree in education in 1954 at the University of New Mexico. He pitched briefly for a local minor-league baseball team and taught math before studying law, completing his degree in 1958 at the University of Denver, in Colorado. Domenici returned to New Mexico to open a law practice and soon developed an interest in public service.
"I was a real complainer about government," he said, according to a 1981 article in the Washington Post. "They told me to run or quit bitching. I was an easy push."
He was elected a city commissioner in 1966, then served as mayor of Albuquerque. In 1972, Domenici ran for the U.S. Senate, legally changing his name to "Pete."
"New Mexico voters would have wondered, 'Who is this dude Pietro Domenici?'" he said, according to a 1995 New York Times article .
Insurance Laws
After his daughter Clare was diagnosed with a form of schizophrenia, Domenici became a leading advocate in Washington for the mentally ill. He sponsored into law two acts requiring insurance companies to provide coverage for mental illness as they do for physical ailments.
Domenici retired in 2009, citing a degenerative neurological condition. He was the longest-serving senator in New Mexico history.
Domenici and Michelle Laxalt, the daughter of former New Mexico Senator Paul Laxalt, had a son, Adam Laxalt, who would become attorney general of Nevada.
Domenici married the former Nancy Burk. They had eight children: Lisa, Peter, Nella, Clare, David, Nanette, Helen, and Paula.
Before it's here, it's on the Bloomberg Terminal.
LEARN MORE