Juncker Calls for New European Finance Minister, Monetary Fund
By
European Commission president gives State of Union speech

Juncker seeks new minister to oversee member states' crises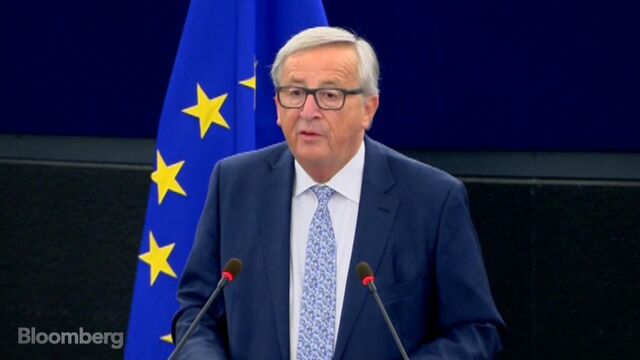 Europe should have a minister of finance and economy as well as its own monetary fund, European Commission President Jean-Claude Juncker said Wednesday in a speech outlining his agenda for the bloc.
In his annual State of the Union address, Juncker set out the changes he would like to see in the European Union's economy, including transforming the bloc's bailout fund into a European Monetary Fund, and the creation of a new role of an EU minister of economy and finance to oversee both reforms and financing to countries in trouble.
Read more: Juncker Tells EU to Seize 'Window of Opportunity' After Brexit
The new minister "should coordinate all European finance instruments and step in whenever a member state is facing recession or fundamental crisis," Juncker said, adding that the person would also chair the meetings of euro-area finance ministers and would be accountable to the European Parliament.
His proposals come amid growing calls across the bloc to take further steps to deepen the euro area in an effort to capitalize on the recent economic improvement and better shield the currency union from future shocks.
Economic Issues
While such initiatives have gotten fresh impetus with the election of Emmanuel Macron in France, a staunch advocate of deeper integration in the currency union, euro-area countries haven't reached a consensus on what steps should be taken to reform the bloc. And some of Juncker's proposals may face resistance by countries such as Germany that have been loathe to cede greater power on economic issues to the European Commission.
The idea of a common finance minister is in line with previous proposals by France, but in his speech Juncker rejected Macron's suggestion of a separate budget for the euro area.
Juncker also stressed how central the euro is to the EU and the bloc's members should work toward adopting it.
"The euro is meant to be the single currency of the European Union as a whole," he said, proposing an instrument to help non-euro area countries with their accession to the currency union.
Before it's here, it's on the Bloomberg Terminal.
LEARN MORE