Irma Sparked Florida Consumer Spending Roller-Coaster Ride
By
Shopping surged before storm and then dropped precipitously

Miami metro area purchases fall 57%, First Data reports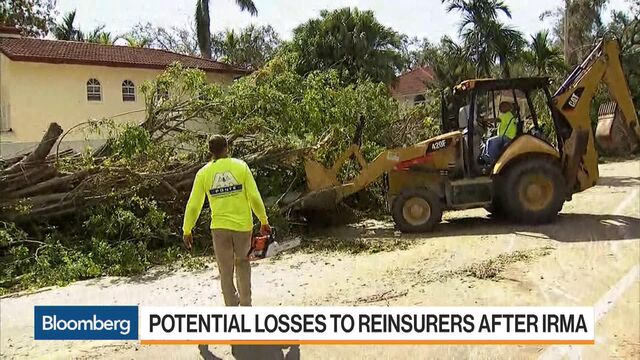 Consumer spending in Miami and Fort Lauderdale plunged more than 57 percent from a year earlier last weekend as Hurricane Irma caused residents to evacuate or take shelter, according to a report from First Data Corp.
Information released by the Atlanta-based company, which tracks shopping activity through the transactions it processes, shows consumption peaked Sept. 5 and then cratered Sept. 8, two days before Irma made landfall. A narrower gauge of retail spending that strips out industries such as restaurants and grocery stores shows an even steeper decline of 72 percent for the period of Sept. 8 to Sept. 10.

"During the days of the hurricane, spending went down more dramatically," said Rishi Chhabra, First Data's vice president of information and analytics. He said the trend was more pronounced for Irma than for Hurricane Harvey, which slammed into Texas days earlier.
Investors are bracing for the financial impact of the storms that have crippled swaths of the U.S.'s second- and third-most populous states and forced retailers to shutter stores. McDonald's Corp. saw its worst stock decline in more than a year on Tuesday on concern that Irma and Harvey will weigh on results. Discount retailer Dollar General Corp. was forced to close more than 300 stores last month after Harvey caused widespread flooding.
First Data tracked information from more than 125,000 merchants across Florida to illustrate the storm's impact on spending. The company will monitor transactions to see when consumption returns to normal, Chhabra said.
Spending in the Tampa Bay metropolitan area followed Miami's trend, rising 21 percent in the first seven days of September from a year earlier before diving 44 percent from Sept. 8 to Sept. 10.
First Data's report also shows that Orlando was a main destination for Miami evacuees. Many others fled to the Tampa Bay and Jacksonville areas -- destinations that were "likely chosen before the storm's true path became known."
Florida's pre-storm spending surge went mostly toward gas, groceries and building materials, with Jacksonville gasoline purchases more than doubling from a year earlier.
Before it's here, it's on the Bloomberg Terminal.
LEARN MORE