France to Push Through With Labor Reform Plan, PM Philippe Says
By
Prime minister reiterates some minor modifications possible

Yesterday's demonstrations smaller than previous protests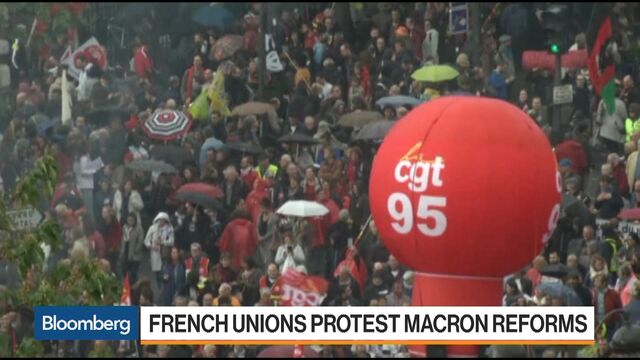 Tuesday's protests across France won't deter the government from pushing through its plan to loosen the country's labor law, Prime Minister Edouard Philippe said.
Some modifications could result from final talks with trade unions and business groups, but the decrees will be published as planned at the end of September, Philippe said Wednesday in an interview on France2 television.
"I don't see this as an arm-wrestling exercise; I see it as putting into effect what the French elected us to do," Philippe said. "There can always be some modifications. But where is democracy if parliament votes a law and the parliamentary majority is systematically contested?"
The CGT union, which organized yesterday's protests against President Emmanuel Macron's flagship labor reforms, said 400,000 people protested across France, including 60,000 in Paris. Police estimate 223,000 nationwide and 24,000 in Paris. Both sets of numbers are well below past protests against previous governments' attempts to liberalize the labor code.
Macron's Platform
Macron ran and won the presidency on a platform that included limiting severance pay and allowing companies to negotiate their own labor accords. Soon after being elected, he summoned unions and business groups for talks led by Philippe, and won from parliament the right to enact the resulting labor law changes through decrees. Two of France's three largest unions didn't join yesterday's protests because while unhappy with many aspects of the planned decrees, they felt they'd won enough concessions in the talks.
The CGT is planning another round of protests Sept. 21 and defeated far-left presidential candidate Jean-Luc Melenchon has signaled his own demonstration Sept. 23.
Before it's here, it's on the Bloomberg Terminal.
LEARN MORE