Cash Cascades Into Brazil Stocks as Investors Look Past Scandal
By and
Ibovespa hits record two days in a row as enthusiasm runs high

Market is looking past corruption scandal, Renascenca says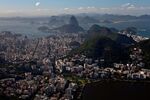 Brazil's benchmark Ibovespa index is near record levels but that's not distracting fund managers and investors from the big picture: it can go even higher.
As long as there are signs that the economy will continue to improve, and with the political turmoil easing enough for Michel Temer's government to advance its highly-anticipated pension system reform, the index should keep advancing, say fund managers and traders in Sao Paulo.
The Ibovespa rose as much as 3.1 percent over the last two days -- its best two-day intraday performance since May -- following the arrest of Joesley Batista, the former head of meatpacker JBS SA. His incarceration is considered a win for Temer because Batista had threatened the legitimacy of the government with accusations of corruption.
The market rallied "because Temer got stronger," Luiz Alves, a fund manager at GTI Administracao de Recursos SA, said by email. "So the markets started pricing in again some reforms, like the pension reform, that were completely out of the picture until this reversal of the state of things."
The Ibovespa ceded some of the gains of the last two days Wednesday, falling 0.2 percent to 74,388.
The index's performance is less impressive in dollar terms, which puts it at the highest level since 2014. The greenback has appreciated against the Brazilian real since then even after factoring in the U.S. currency's decline this year. Still, the Ibovespa has returned 29 percent this year in dollars, compared with the 28 percent advance of the MSCI Emerging Markets Index.

The bulls are also emboldened by recent economic data. Investors have been buying assets as inflation weakens, interest rates drop and growth estimates for 2018 rise after years of recession, said Luiz Roberto Monteiro, a trader at brokerage firm Renascenca.
"With the possibility of advances in reforms, the market is looking past the possible accusations against Temer," he said by phone from Sao Paulo.
Flows from abroad are also helping, according to Mario Avelar, a portfolio manager at Avantgarde Capital. So far in 2017, net foreign flows have reached 12 billion reais ($3.91 billion), of which 7.3 billion reais entered since July. That compares with 14.3 billion reais in all of 2016, according to exchange data.
"The external market is helping," Avelar said. "We're being showered with money coming from a foreign bonanza, which is flowing into emerging markets."
Before it's here, it's on the Bloomberg Terminal.
LEARN MORE