'Super Wednesday' Purge Snares Brazil's Powerful
By
Former Rio de Janeiro governor pulled from on-air radio show

CEO of world's largest meatpacker among those arrested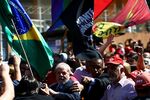 Even by the standards set by Brazil's recent political upheaval, Wednesday was a dramatic day.
It began with the arrest of Wesley Batista, the CEO of the world's largest meat company, JBS SA. Then a former governor of Rio de Janeiro was yanked off-air by police mid-way through his morning radio show. In the afternoon, it was former President Luiz Inacio Lula da Silva's turn to testify in court for a second time on corruption charges.

That's not to mention a Supreme Court ruling that had put into question whether chief prosecutor Rodrigo Janot was fit to probe President Michel Temer. Having survived the ruling, Janot is now expected to file corruption charges against the president.
Separately, federal prosecutors in Rio de Janeiro charged 11 people with corruption and money laundering tied to two of the city's legacy projects for the 2016 Olympic games: a bus rapid transit line from the airport to the Olympic Park and clean-up of waterways around the park. The works involved 36 million reais ($10 million) in bribes, prosecutors said.
"Super Wednesday," as it has been dubbed by the local media, marks one of the most breathless days of action to date in Brazil's long-running anti-corruption saga. After three years of Operation Carwash, the investigation into graft centered around the state oil company, the country is still reeling from the fallout that helped bring down one president, convict another and could yet up-end Temer's reform agenda.
On-Air Arrest
In Rio the dramatic arrest of ex-governor Anthony Garotinho mid-way through his morning radio show exemplified how Brazilian politicians have lost the deference they once enjoyed. Police officers entered the studios of Radio Tupi while he was live on-air. In the audio of the incident published by local media, a stand-in presenter ad libs after Garotinho's disappearance during a jingle, telling listeners that the former governor had suddenly lost his voice.
— With assistance by David Biller
Before it's here, it's on the Bloomberg Terminal.
LEARN MORE