BOE PREVIEW: Pound May Benefit as Hawkish Tone Seen in Rate Vote
By and
Rising inflation could see additional MPC hike vote: analysts

High CPI 'ultimately deflationary' due to wage squeeze: JPM AM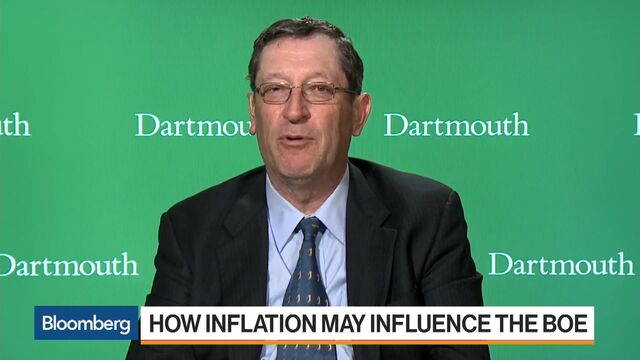 The pound could find support from a hawkish tone to the Bank of England's policy decision, even as Brexit talks cloud its longer-term outlook.
Sterling reached its highest in a year versus the dollar on Wednesday as markets bring forward expectations for a BOE rate increase to mid-2018, following higher-than-expected inflation numbers. It pared gains after jobs data showed falling unemployment failed to push wages higher, highlighting the tough balancing act policy makers face.

While all 59 economists in a Bloomberg survey forecast rates to be kept on hold on Sept. 14, traders will focus on any changes to the central bank's voting pattern.
The risks of a third dissenter joining last month's two votes for a hike in the nine-member Monetary Policy Committee are growing, according to analysts at HSBC Holdings Plc, ING Groep NV and Morgan Stanley. A six-three split decision could drive up the odds of a November rate rise to 50-50, according to ING's currency strategist Viraj Patel, lowering the chances of sterling weakening to parity against the euro.
JP Morgan Asset Management's global market strategist Michael Bell differs. Rising inflation is "ultimately deflationary" as it squeezes real incomes, he said. With the U.K.'s economic outlook "still skewed somewhat to the downside", Bell said the market pricing of tighter BOE policy is "too aggressive."
Below is a compilation of some investors' and analysts' expectations for the meeting, and the outlook for gilts and the pound:
Morgan Stanley
Hawkish shift remains possible with "the output gap closed and inflation above target," economists including Melanie Baker write in a note dated Sept. 11
Going into the Sept. 14 meeting, Morgan Stanley is shifting "from receiving 6m1y SONIA to positioning via short sterling Mar-18 versus Mar-19 steepeners"
It sees little room for further curve flattening and the risk "is skewed toward steepening if the MPC surprises to the hawkish side"
In the near-term, below-par growth could persuade MPC to look through inflation overshoot, but even a "modest upside" on GDP may prompt a rate hike
Recommends buying euro-sterling at 0.90
Central view is that BOE will remain on hold "through to Brexit in March 2019"
JP Morgan Asset Management
BOE Chief Economist Andy Haldane may vote for a rate rise in coming months, but it's "probably too early" for him to do so this week, JP Morgan Asset Management's Bell says in an interview Sept. 12
While the BOE has "talked a lot about putting rates up, it has consistently failed to do so" and without wage inflation it is unlikely to move, he says
Market pricing "seems a little bit too aggressive, we wouldn't be short at the short-end of the U.K. curve"
ING
ING expects the BOE to signal "explicit concerns over the U.K. rate curve being too flat" so markets shift to narrative of a gradual tightening path over a two-year horizon
Inflationary pressures from renewed sterling weakness may prompt some MPC members to consider tighter policy, strategists including Patel write in a note dated Sept. 12
These factors "could mark a positive turning point in sterling sentiment" with the currency strengthening against the euro, taking the pair below 0.90 
That "would almost certainly shelve any EUR/GBP parity fears for now"
A hawkish re-pricing of BOE rates will, however, only likely "offer the pound a one-time boost," as Brexit will once again be the main driver in October ahead of key political events
UniCredit SpA
While the pound could be supported if the BOE steps up its hawkish rhetoric on Thursday, strategists at UniCredit including Vasileios Gkionakis remain negative on the British currency
The "risk premium embedded" in sterling is "very unlikely to get priced out any time soon," they write in a client note Sept. 13
They remain bullish on euro-sterling, despite the pair dropping below 0.90
While the pound could climb versus the weak dollar, it will struggle versus the euro as "the divergence on the economic and political levels between the U.K. and the euro area is still clearly visible and not fully priced in"
"In this environment, even a rate hike would not make a sustainable difference," they write
HSBC
While economists at HSBC, including Simon Wells, expect a 7-2 split in favor of keeping rates on hold, they said "it's not impossible that the number of dissenting votes could rise to three" given firmer data since the August meeting
Even if the vote stays unchanged, the MPC "may want to send a hawkish signal to the market, which has become more dovish since August, despite the committee's guidance that it was not pricing in enough tightening"
Sterling is cheap, but "as a tool of economic adjustment, it has to get cheaper," HSBC currency strategists including David Bloom write in a separate client note. He predicts sterling at $1.20 and reaching parity to the euro by the end of 2017
RBC Capital Markets
While RBC strategists including Vatsala Datta expect the MPC to leave interest rates on hold for some time, September's announcement could have "hawkish tinge"
RBC says while it is difficult to see a further drop in market's interest-rate expectations, if "yields rise following a renewed warning that the policy isn't 'indifferent' to the exchange rate, it may be a good opportunity to add exposure"
There's a risk of some upward correction in front-end yields, "particularly given the market positioning and the complacent market outlook" 
RBC says it certainly does "not favor a short positioning for the longer haul in this maturity area" and advocates a buy-on-dips strategy, "looking to enter receive position on a move higher in rates, given the downside risks to the economic outlook"
Before it's here, it's on the Bloomberg Terminal.
LEARN MORE