Balance of Power: Merkel's Next Term May Just Be Her Last
By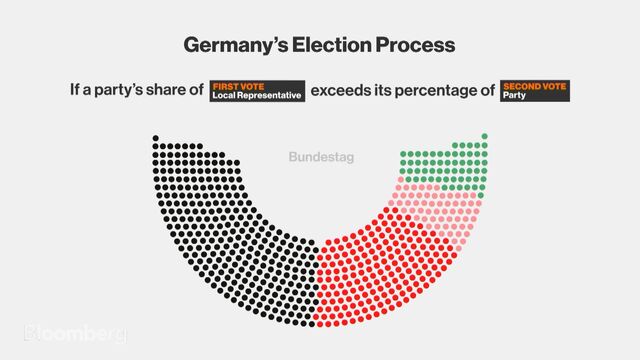 Barring an unforeseen shock, Angela Merkel is heading for victory in 11 days.
A fourth term as chancellor would be a remarkable achievement, bettered only by Konrad Adenauer in the postwar period and Helmut Kohl in the aftermath of reunification. 
Merkel is leading Germany through equally uncertain times, and the stability she represents helps explain her success. But other hallmarks — the adoption of rival parties' policies, a cautious hesitancy, and the recent arrival of more than 1 million refugees — are hollowing out the political center.
If the polls are accurate, Merkel may win with a lower share than any of her predecessors. The anti-capitalist Left and the far-right AfD are the main beneficiaries, both jockeying for third place.
Europe's recovery may well have cleared the way for Merkel to pursue a greater integration of the euro area — with veteran Finance Minister Wolfgang Schaeuble at her side. And globally, she'll continue to be Donald Trump's foil and the West's bridge to Vladimir Putin.
Domestically, however, the division she's caused suggests this term may be her last.

Sign up to receive the Balance of Power newsletter in your inbox, and follow Bloomberg Politics on Twitter and Facebook for more.
Global Headlines
Souring on Putin | His approval ratings may still be sky-high, but in Russia's industrial heartland, there are signs of cracks in the foundation of Putin's support. Henry Meyer reports from Lenin's hometown that years of economic pain have taken their toll — not enough to be a threat in next year's election, but a growing worry for the Kremlin.
Turning the screws on Iran | Secretary of State Rex Tillerson is consulting allies as he seeks to toughen restrictions on Iran's nuclear program a month before Trump faces a deadline to decide whether to walk away from the deal. But Iran isn't blinking — a government spokesman today said it could keep the pact made with the other signatories even if the U.S. decides to exit.
100 days of desert solitude | Rather than turn Qatar into a subservient vassal state, the feud with Saudi Arabia has split the Gulf in a way that looks increasingly permanent. As Fiona MacDonald and Zainab Fattah report, the damage may be irreparable and it's redrawing the way companies do business in the region. 
China hates surprises | With a twice-a-decade leadership reshuffle set for next month, top financiers have been put on notice. The regulator has ordered local brokerages to mitigate risks and ensure stable markets through the Communist Party congress, sources say, with brokerage bosses banned from taking holidays or leaving the country from Oct. 11 until the congress ends.  
India's Trump Towers | After his election, Trump abandoned a number of international projects and promised not to engage in new foreign projects that could trigger conflicts of interest. But with the Indian deals struck earlier, his company is barreling ahead. Blake Schmidt looks at a gold insignia tower, a "Trump Village," and partners with legal issues.
And finally… JPMorgan's Jamie Dimon said he'd fire any employee trading bitcoin for being "stupid." The cryptocurrency may be appealing to dictatorships, murderers and drug dealers, but the story "won't end well," Dimon told an investor conference in New York. "It's a fraud."

— With assistance by Kathleen Hunter
Before it's here, it's on the Bloomberg Terminal.
LEARN MORE