Your Evening Briefing
Here are today's top stories
Bloomberg News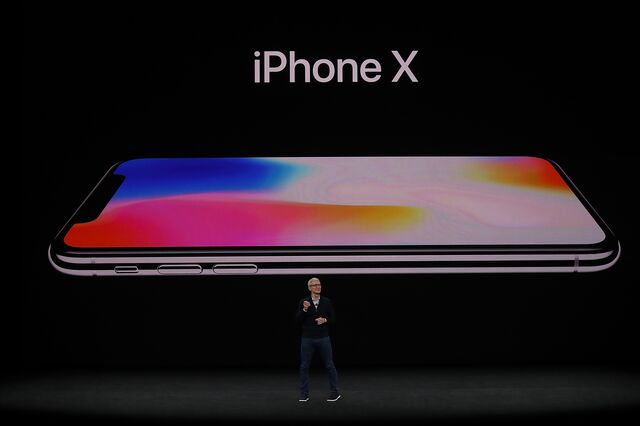 Want to receive this post in your inbox every afternoon? Sign up here.
Good afternoon. For Apple, X marks the iPhone "ten." The first major redesign of the device in years will begin shipping in November. In addition to the iPhone X, the company announced a slew of new and updated products, debuted its new campus and demoed some dubious emoji capabilities. –Emily Banks
Everything you missed at Apple's event: a 4K Apple TV, the iPhone 8 and 8 Plus, an Apple Watch that can make calls without an iPhone, wireless charging and the iPhone X. The iPhone X is the company's most important new iPhone in years. It has an edge-to-edge screen, does away with the home button and can be unlocked using facial recognition.
For Irma damage, 20 miles may have made a $150 billion difference. The storm was poised to be the costliest on record in the U.S.–until the Bermuda High intervened, acting like a sort of traffic cop for the tropical North Atlantic Ocean. For 10 days, computer-forecast models had struggled with how the high was going to push Irma around and when it was going to stop. Here's more on how modelers got the storm so wrong.
"Friends of the court" have hidden ties to big investors. Intended to provide judges with outside perspectives, amicus briefs have proliferated. But sometimes these "friends" are the puppets of financial interests, and judges can't always see who's pulling the strings. When that happens, the briefs become a tool for well-funded litigants to try to tip the scales of justice.
Americans are actually quite rational about their avocado obsession. We crunched five years of retail data from the Hass people, comparing changes in price to changes in purchasing. When prices go up, Americans, collectively, buy fewer avocados, and vice-versa. There's a good reason this price-demand relationship is so tidy, too. Nobody needs an avocado, although there is no real substitute.
Scammers construct fake people to get real credit cards. Rather than stealing existing identities, synthetic identity thieves create new ones by buying stolen SSNs or trying to guess numbers not in use, combining them with a sham identity and then using other people's real addresses to apply for credit cards. Then the long con starts.
Sports drinks makers are waging an $8 billion thirst war. Soda had its sugar reckoning and now it's come to sports drinks. America's lucrative fitness craze has moved on from the likes of Gatorade and Powerade. Beyond just being healthier with less sugar, there's a whole new generation of high-tech, all-natural libations looking to hydrate gym minions. Their aim? Blowing soda, sugary sports drinks—and plain old H2O—out of the water.
This extreme office-wellness plan feeds employees three meals a day. One of the very first people new recruits meet when starting at FS Investments is a former college football player-turned-fitness trainer who will analyze employees' bodies and exercise habits. He's one of the key perks, part of the company's all-encompassing employee-wellness program that also includes free meals, gym, workout classes, personal trainers and nutritionists.
Before it's here, it's on the Bloomberg Terminal.
LEARN MORE