Business
Shkreli Says His $5,000 Bounty on Clinton Hair Was 'Satire'
By
Shkreli Says His $5,000 Bounty on Clinton Hair Was 'Satire'
By
Convicted executive apologizes to court for 'poor judgment'

Earlier, he cursed the U.S., saying 'Come at me your hardest'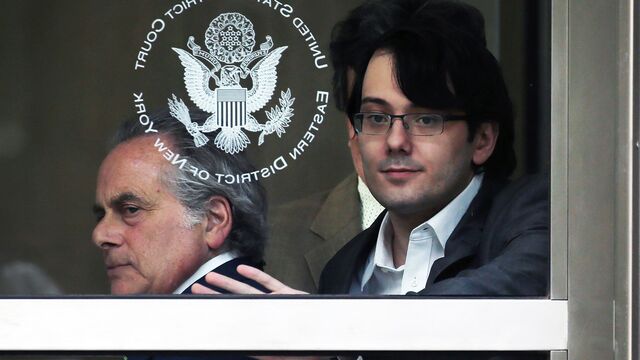 A remorseful Martin Shkreli, facing prison after he was convicted of fraud, told a judge his online postings offering a $5,000 reward for someone to grab Hillary Clinton's hair were "never intended to cause alarm or promote any act of violence."
While prosecutors are trying to get the former pharmaceutical executive's bail revoked, he apologized for his "poor judgment" and insisted he is "not a violent person," just days after he dared the government to "come at me your hardest" in an obscenity-laced post on Facebook.
"I understand now that some may have read my comments about Mrs. Clinton as threatening, when that was never my intention when making those comments," he wrote to U.S. District Judge Kiyo Matsumoto in Brooklyn, New York. "I apologize for my behavior and ask you respectfully not to change my bail status so that I may continue to assist my attorneys in preparing for my sentencing."
Once dubbed "the most hated man in America" for raising the price of the potentially life-saving drug Daraprim by 5,000 percent, Shkreli is set for a hearing Wednesday on whether he can stay out of jail until he's sentenced for defrauding investors in his hedge fund.
His lawyer sent a separate letter to the court saying that Shkreli's comments, though they may have been "tasteless to many," were "intended as political satire" and were an exercise of the right to free speech.
Prosecutors argued last week that Shkreli not only appears to have violated state and federal laws prohibiting threats against the immediate family members of former presidents, but that he also has a history of harassing specific women. They noted that in January he was banned from Twitter after he invited Teen Vogue writer Lauren Duca to be his date for the inauguration of President Donald Trump and later doctored photos of himself with her.
He faces as long as 20 years in prison, although he's likely to serve much less. He was convicted of three of eight charges, including securities fraud. He was acquitted of fraud charges related to allegations that he looted his drug company to pay off his hedge-fund investors.
(
Updates with Shkreli's personal apology to judge in first paragraph.
)