iPhone Fever, Arbitrage Lift Korea ETFs as Nuclear Anxiety Wanes
By , , and
Two of largest domestic ETFs saw increased inflows on Sept. 8

Arbitrage activity has been active with ETFs: KB Securities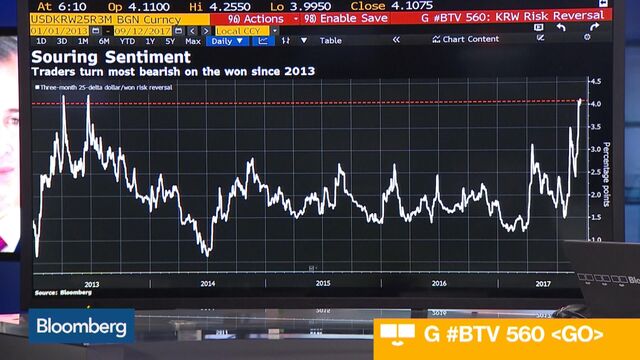 Investors looked past the threat of another North Korean provocation to pile the most money this year into one of South Korea's largest ETFs. 
What may have boosted their confidence is Apple Inc.'s highly anticipated smartphone unveiling and an arbitrage opportunity in Korean equities.
South Korea's largest domestic equity exchange-traded funds, the Samsung Kodex 200 Securities ETF and Mirae Asset Tiger 200 ETF, saw elevated inflows on Sept. 8, according to data compiled by Bloomberg. Investors wagered Apple's new range of iPhones, revealed Tuesday, for the original device's 10th anniversary, would boost technology shares and banished concerns about a North Korean weapons test that never materialized last weekend.
"Not just Samsung and SK Hynix, but also other semiconductor companies and display companies account for a big part of South Korea's equities market, so I am not surprised to see such inflows ahead of the new iPhone launch," said Songchul Kang, analyst at Shinhan Investment Corp. in Seoul.
South Korean equities are starting to rebound from a dip in August on expectations geopolitical risks have eased, leading to the increased investor enthusiasm, Kang said. The benchmark Kospi index advanced 0.2 percent on Wednesday and has gained 1.1 percent this week amid a relief rally on eased tensions with North Korea.
The Mirae Asset Tiger 200 ETF, a $2.11 billion fund tracking the Kospi 200 Index of large-cap Korean stocks, had net flows of $174 million on Sept. 8, the most since Nov. 7. The fund has seen $270 million in total flows over a six-day streak of gains and lost about $20.6 million on Monday. The $4.7 billion Samsung Kodex 200 Securities ETF, which tracks the same index, also posted an inflow of $148 million on Sept. 8. Technology stocks account for about 42 percent of the underlying index's weighting.

Investors may also be attempting to take advantage of price differences between Kospi 200 Index futures and the underlying index, said Gilbert Choi, an analyst at NH Investment & Securities. Due to geopolitical risks, the gap between futures and stocks on the Kospi 200 widened as futures were overvalued while stocks were oversold so institutional investors bought shares through ETFs, Choi added.
So far this week, local institutional investors have added 510 billion won ($452 million) of Kospi index shares, while foreign investors have sold a net 336 billion won of equity holdings.
Arbitrage Advantage
"Arbitrage has been active in ETF markets recently," said Lee Jungho, a derivatives analyst at KB Securities. "It's become more active than before after Korea Post has been temporarily exempted the tax for arbitrage since April."
Korea Post, the No. 2 state-run institutional investor that runs about 110 trillion won, has been exempted from paying an arbitrage tax until the end of 2018 in a move to stimulate the domestic arbitrage market. Korea Post used to be the biggest investor in the space until a 0.3 percent stock exchange tax was imposed on arbitrage trading for all institutional investors in 2013. 
Foreign investors bought the most Kospi 200 futures in a month on Sept. 4, while also being net buyers of Kospi stocks that day, according to data compiled by Bloomberg.
Before it's here, it's on the Bloomberg Terminal.
LEARN MORE