Disney Ex-CEO Eisner Says Insiders Like Iger Are Good Successors
By and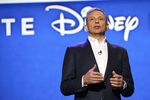 Michael Eisner, the former chief executive officer of Walt Disney Co., said the company may want to consider internal CEO candidates to replace current leader Bob Iger when he retires in July 2019.
"I hope Bob stays for a long time," Eisner said in a Bloomberg Radio interview. "He's not leaving for a while. Often it is better from within than without for succession, but that's what they're now working on."
Disney has said its board is working on a succession plan. Eisner, who left Disney in 2005 after 21 years as chief and now runs investment firm Tornante Co., said it's not necessary that the company's next boss be an internal choice.
"I came from the outside to Disney," Eisner said. "I came from Paramount. When we made the transition to Bob, it was always 'Bob Iger or who?' There was nobody even close."
Perhaps Iger wants to run for president when he's done at Disney, Eisner said. "So pick one or the other. Maybe Disney would be more fun."
Before it's here, it's on the Bloomberg Terminal.
LEARN MORE