Najib Set to Meet Trump as 1MDB Probe Deepens
By and
Najib's visit comes as Malaysia bolsters trade ties with China

Trump has criticized nations running trade deficits with U.S.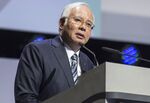 When Malaysian Prime Minister Najib Razak meets former golf partner Donald Trump in the White House on Tuesday, the elephant in the room will be a U.S. criminal probe of an investment fund linked to Najib.
While ties between the countries are solid, there are points of strain for the two leaders. One wrinkle is a Department of Justice investigation into alleged money laundering and embezzlement at state-owned 1Malaysia Development Bhd. The 1MDB probe, which began during Barack Obama's administration, has focused global scrutiny on the Malaysian government's business dealings under Najib, in power since 2009.
Trade is another potential sore spot, with Trump withdrawing the U.S. from a Pacific pact that Malaysia is a member of and criticizing nations running a trade deficit with the U.S. -- with Malaysia in that club. Najib in turn has sought recently to boost trade and investment ties with China.
"Trump is aware of 1MDB but will probably downplay the issue and isn't likely to address it publicly," said Ahmad Martadha Mohamed, an associate professor at Universiti Utara Malaysia. "There are more important things on the agenda to discuss such as the growing influence of China in the Southeast Asian region and the threat of Islamic State."
Read more: Chinese money pouring into Malaysia could help Najib with votes
Wong Chin Huat, head of political studies at the Penang Institute, said Najib's visit wouldn't change anything in the 1MDB probe. "President Trump cannot control the DOJ in its investigation," he said.
Still, in meeting Najib at the White House, Trump is giving him a nod of approval in the international arena. The Justice Department last month asked a judge to put on hold a dozen-plus civil forfeiture lawsuits seeking more than $1 billion in assets in the U.S., the U.K. and Switzerland while it looked into 1MDB funds. The targeted assets are from Malaysian financier Low Taek Jho and Najib's stepson Riza Aziz, among others.
The U.S. probe is part of a global effort to track how much of the $6 billion that 1MDB raised for development projects was allegedly embezzled or laundered. Najib, who until last year chaired 1MDB's advisory board, has denied any wrongdoing and was cleared by Malaysia's attorney general.
Possible witnesses to the alleged looting from 1MDB are too scared to talk, according to the Federal Bureau of Investigation. People in "certain foreign countries" assisting the probe are concerned for their safety, while others say it's too dangerous to cooperate, according to an FBI request to keep the names of informants secret from the alleged masterminds of the 1MDB conspiracy.
Trump looks forward to speaking with Najib on a range of topics including maritime security and counter-terrorism, White House spokeswoman Sarah Sanders said at a regular briefing. She added she would not comment on 1MDB given the ongoing DOJ probe, adding "that investigation is apolitical, and certainly independent of anything taking place tomorrow."
Read More: Malaysia's 1MDB Fund Spawns Worldwide Probes
Trump's focus on countries running a trade deficit with the U.S. may also put Malaysia under the spotlight. The Southeast Asian nation had a $24.8 billion goods deficit with the U.S. in 2016, the ninth-largest imbalance among U.S. trading partners. Imports and exports between the two countries totaled about $48.5 billion last year.
Negotiations for a free trade pact between the countries stalled a decade ago amid Malaysia's reluctance to open its rice market and increase access to state contracts. Malaysia had pushed to join the 12-nation Trans-Pacific Partnership which Trump has abandoned, and Najib said last week there was a possibility the deal could go on minus the U.S.
Still, Najib also said Malaysia remained open to a bilateral agreement with the U.S. and would begin preliminary discussions on whether it could still be pursued and what time frame it would entail.
'My Favorite'
While there is a photograph of the two leaders signed by Trump with the words "to my favorite prime minister" reportedly in Najib's office, the meeting with Trump may not be enough to allay U.S. concerns that Malaysia is moving closer to China.
Since President Xi Jinping came to power, Beijing has sought to increase its economic and military clout in Southeast Asia, via trade and investment ties and by greater control of the disputed South China Sea.
China is providing funds for infrastructure projects across Malaysia including down its eastern seaboard, an important battleground for Najib ahead of an election that could be held this year.

China's investment in Malaysia has risen under Xi, who has described ties with Najib as the "best ever." Najib brought home $33.6 billion in deals when he visited China in November as well as an agreement to buy four patrol boats from China.
"We will continue to have close ties with China as the U.S. has not been able to match China's commitment to undertake huge economic programs in Malaysia," said Oh Ei Sun, principal adviser to the Pacific Research Centre in Malaysia.
Terrorism, North Korea
One thing the two leaders will probably agree on is the need to remain vigilant on terrorism risk. Malaysia is among Southeast Asian nations warning of the potential danger from returning fighters as Islamic State is weakened in the Middle East. In Marawi in the southern Philippines, soldiers have battled Islamic State-linked militants since late May.
"Both administrations are united in their determination to fight Daesh and any form of extremism," said Sholto Byrnes, a senior fellow at the Institute of Strategic and International Studies Malaysia, using another term for Islamic State.
They will also share concerns over North Korea given its recent nuclear and missile tests. Ties between North Korea and Malaysia deteriorated after the assassination of Kim's half-brother Kim Jong Nam at Kuala Lumpur airport in February. Kim, who was killed with a VX nerve agent, was a critic of his brother's regime who had lived outside North Korea for many years.
Malaysia's move to expel North Korea's ambassador and halt visa-free entry for North Korean workers briefly led to a standoff where Pyongyang refused to allow some Malaysian diplomats based there to leave. It was resolved when Malaysia returned Kim Jong Nam's body to North Korea.
— With assistance by Justin Sink, Mike Dorning, and Larry Liebert
Before it's here, it's on the Bloomberg Terminal.
LEARN MORE